Healthy Habits: Dr. Julie La Barba says skip extremes, deprivation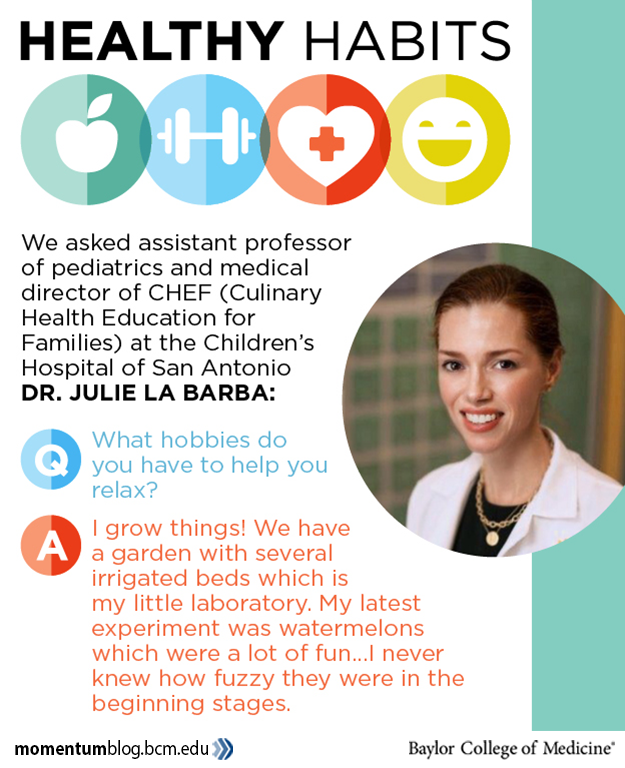 It can sometimes be difficult to find ways to stay healthy, so we've asked members of our Baylor College of Medicine community to share what they do in their daily lives to maintain a healthy lifestyle.
Dr. Julie La Barba, assistant professor of pediatrics and medical director of CHEF (Culinary Health Education for Families) at the Children's Hospital of San Antonio, shares her healthy habits.
Q: What healthy decisions start your day?
A: I try to exercise first thing. Once I'm dressed for the day, it won't happen!
Q: What is your go-to healthy breakfast?
A:Almond milk sweetened with dates, multigrain toast with eggs or avocados
Q: What is your favorite type of exercise?
A: Pilates, yoga, walking
Q: What keeps you motivated during your workout? (music, tv, phone call, etc.)
A: Tunes for sure…rock n' roll never hurts!
Q: What activities do you do when you can't fit in a full workout?
A: Take the stairs (I work on the 11th floor)
Q: What is your favorite healthy snack?
A: Roasted almonds, a little bit of good cheese, strawberries
Q: Do you take vitamins and if so, which ones?
A: I am a terrible patient…Vitamin D, when I remember!
Q: What do you include in your child's lunch?
A: It varies. Out of my four, I have one with food allergies and another who ironically won't touch any fresh fruits or vegetables! In general, Penne marinara, Turkey sub or good ole' PB&J on whole wheat, with fresh fruit, yogurt and water
Q: How do you make an unhealthy recipe healthy (healthy substitutions?)
A: I'd rather just start with a recipe that's delicious and healthy as is without substitutions, but when I serve chalupas to my family, I try to sneak in the baked vs. fried tostadas.
A: What is your nighttime skincare regimen?
Q: That sounds decadent, but mine's pretty uneventful: Cetaphil from the drugstore, Retin-A and a little moisturizer on top.
Q: What hobbies do you have to help you relax?
A: I grow things! We have a garden with several irrigated beds which is my little laboratory. My latest experiment was watermelons which were a lot of fun…I never knew how fuzzy they were in the beginning stages.
Q: What is your go-to San Antonio restaurant for a healthy meal?
A: Moroccan Bites…family-run by two sisters and their mom. Tagine, Moroccan Salad with chopped green olives, tomatoes and cucumbers, hot stew-like hummus with whole garbanzos, and mint tea – delicious every time.
Q: Do you use a pedometer or Fitbit and what is your daily step goal?
A: I do not, but I cheer my husband on! I may join the Fitbit club during Baylor's next open-enrollment though (and get a little credit for taking those stairs!)
Q: What is your favorite health tip that you live by?
A: Stay away from extremes and build realistic, sustainable habits over time. Eat good, fresh food that satisfy you – feeling deprived doesn't work. Choose exercise you enjoy- forced workouts are no fun. Try to get more sleep – I can't give advice here, that's my Achilles heel!
Additional Resources
Healthy Habits: Each day is an opportunity to make healthy choices
For Dr. Karin Fox exercise includes fun
See how Baylor stays fit with more healthy habits from members of our community
See how Baylor promotes a culture of healthy living and wellness