Teen weight-loss surgery study shows reversal of type 2 diabetes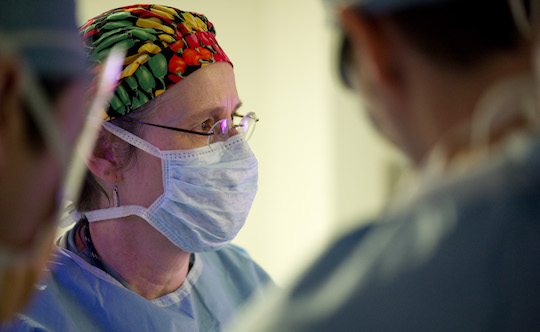 Obesity is a serious health threat to millions of children and adolescents around the world, especially those who are considered severely obese. Many of the patients we see in our Adolescent Bariatric Surgery Program suffer from diseases usually seen only in adults.
Recently, Texas Children's Hospital, the pediatric teaching hospital for Baylor College of Medicine, along with lead investigators at Cincinnati Children's Hospital Medical Center and three other sites around the country, published results from the largest in-depth study of its kind on teen weight-loss surgery in The New England Journal of Medicine.
The findings showed three years after undergoing bariatric surgery, adolescents demonstrated significant improvements in their weight, metabolic health and quality of life.
The study enrolled 242 adolescents, ages 13 to 19, all of whom were severely obese with an average weight of 325 pounds before surgery. The participants had an average body mass index (BMI) of 53 kg/m2. Three years after surgery, average weight had decreased by more than 90 pounds, or 27 percent. More importantly, the majority of participants showed reversal of a number of key obesity-related health problems. Reversal of type 2 diabetes was seen in 95 percent and normalization of kidney function was seen in 86 percent. Hypertension corrected in 74 percent and lipid abnormalities reversed in 66 percent.
Through this data, we now know surgical intervention can have a drastic impact on the serious health-related complications and comorbidities many of these children face due to their obesity. The results demonstrate that potentially life-threatening diseases, like diabetes, can be reversed in adolescents with severe morbid obesity. While further research is needed, intervening early could potentially have more substantial and longer-lasting implications than doing so later in life.
Teen-LABS is funded by the National Institute of Diabetes and Digestive and Kidney Diseases (NIDDK) at the NIH under grants UM1DK072493 and UM1DK095710. The study is being conducted at five clinical centers in the U.S., including Cincinnati Children's Hospital,  Nationwide Children's Hospital, Texas Children's Hospital, the Children's Hospital of Alabama, the University of Pittsburgh Medical Center, and the University of Cincinnati.
–By Dr. Mary Brandt, director of the Adolescent Bariatric Surgery Program at Texas Children's Hospital and senior associate dean for student affairs and professor of surgery at Baylor College of Medicine
This post originally appeared on the Texas Children's Hospital Blog.