Healthy Habits: 'Life is like riding a bicycle'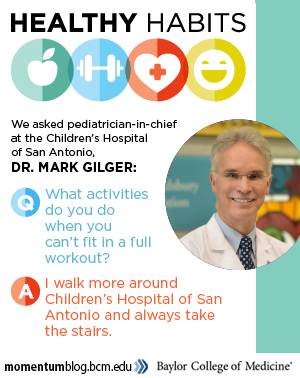 It can sometimes be difficult to find ways to stay healthy, so we've asked members of our Baylor College of Medicine community to share what they do in their daily lives to maintain a healthy lifestyle.
Dr. Mark Gilger, pediatrician-in-chief at the Children's Hospital of San Antonio and professor of pediatrics at Baylor, gives us an idea of how he stays active in San Antonio.
What healthy decisions start your day?
When can I ride my bike? If I can't, how do I get in more walking?
What is your go-to healthy breakfast?
Granola and blueberries
What is your favorite type of exercise?
Riding my bike
What keeps you motivated during your workout?
Watching the road. Crashing is not a good thing.
What activities do you do when you can't fit in a full workout?
I walk more around Children's Hospital of San Antonio and always take the stairs.
What is your favorite healthy snack?
Pistachios
Do you take vitamins and if so, which ones?
Vitamin D and a multivitamin
What hobbies do you have to help you relax?
Biking, gardening, reading, building things
What is your go-to San Antonio restaurant for a healthy meal?
Nao at the Pearl
Do you use a pedometer or Fitbit and what is your daily step goal?
10,000
What is your favorite health tip that you live by?
"Life is like riding a bicycle, to keep your balance you must keep moving" Albert Einstein
Additional Resources
Healthy Habits: How taekwondo keeps Dr. Xander Wehrens active
Healthy habits: Substitutions can improve your diet
See how Baylor stays fit with more healthy habits from members of our community
See how Baylor promotes a culture of healthy living and wellness