Dr. John Dawson shares his tips for a healthy lifestyle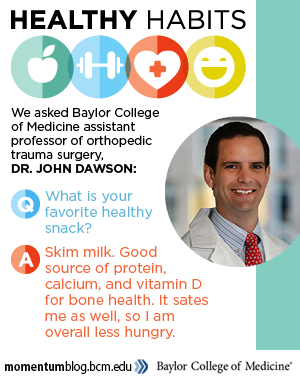 Taking care of your health is a priority and nobody knows that more than physicians and healthcare providers.
It can sometimes be difficult to find ways to stay healthy, so we've asked members of our Baylor College of Medicine community to share what they do in their daily lives to maintain a healthy lifestyle.
Dr. John Dawson, assistant professor of orthopedic trauma surgery, tells us how he stays active despite his hectic schedule.
Q: What healthy decisions start your day?
A: Don't eat garbage food today.
Q: What is your go-to healthy breakfast?
A: No breakfast or just a glass of skim milk.
Q: What is your favorite type of exercise?
A: Swimming – low impact, total body exercise.
Q: What keeps you motivated during your workout? (music, tv, phone call, etc.)
A: The anticipation of being done with my workout.
Q: What activities do you do when you can't fit in a full workout?
A: I rarely take the elevator.  I average about 30 flights of stairs a day, even regularly walking up 18 flights at BSL.  This amazingly only takes about 4 minutes, and I am able to answer emails, etc., during the walk.
Q: What is your favorite healthy snack?
A: Skim milk. Good source of protein, calcium, and vitamin D for bone health. It sates me as well, so I am overall less hungry.
Q: What hobbies do you have to help you relax?
A: Work
Q: What is your go-to Houston restaurant for a healthy meal?
A: Hungry's
Q: Do you use a pedometer or Fitbit and what is your daily step goal?
A: Pedometer on iPhone.  12,000 is the goal.
Additional Resources
Healthy habits: Daily goal to raise your heart rate
Dr. Amy McGuire's advice? Don't forget to breathe
See how Baylor stays fit with more healthy habits from members of our community
See how Baylor promotes a culture of healthy living and wellness