Healthy habits: Everything in moderation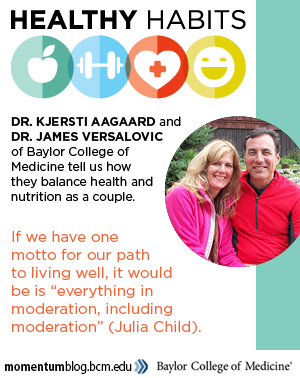 Taking care of your health is a priority and nobody knows that more than physicians and healthcare providers.
It can sometimes be difficult to find ways to stay healthy, so we've asked members of our Baylor College of Medicine community to share what they do in their daily lives to maintain a healthy lifestyle.
Baylor's Dr. Kjersti Aagaard, associate professor of obstetrics and gynecology and Dr. James Versalovic, professor of pathology, tell us how they balance health and nutrition as a couple.
What healthy decisions start your day?
The early morning hours are precious time for us to be together and intimately attuned to the world – no phones and no email. At sunrise, we take our furry babies, Sadie and Zoe, out for a walk in our Bellaire neighborhood and see the leaves turn, watch the flowers bloom and start our day with a simple act of looking for small change and much consistency one day to the next. On weekend mornings, we take our dogs on three, six or nine mile runs around Memorial or Hermann Park.
What is your go-to healthy breakfast?
JV: orange juice with a cup of coffee and raw turbinado sugar, along with a banana and nutritious breakfast bar (i.e. Whole Foods 360 brand cereal bars or Exo protein bars)
KA: I'm a firm believer in the Scandinavian breakfast: coffee, egg, coffee, coffee and a little more coffee. I follow that with the thrifty option of "whatever is letter over from the night before."
What is your favorite type of exercise?
JV: Paleo-style short, high intensity workouts, including weekly jogs with rapid sequence of jump roping, bicep curls triceps, deltoid, chest and abdominal muscle exercises
KA: I think of my runs as long, long and longer, but pup-centric. I also bike to work and the grocery store if weather permits.
What activities do you do when you can't fit in a full workout?
We like to walk around intermittently during the day and avoid long hours continuously seated at a desk. Running back and forth between hospitals and our labs enables quite a bit of "leg work." A high quality ergonomic chair that provides the right height and angles for different activities promotes healthy posture and back/muscle/bone health.
Do you take vitamins and if so, which ones?
JV: I take a multivitamin with juice every other day.
What is your nighttime skin care regimen?
KA: For skin hygiene, we are both fans of plant-based products by companies such as L'Occitane and Kiehl's.
JV: In addition to this, I also use gentle facial soap after every shave with a thorough rinse.
What hobbies do you have to help you relax?
We have spiritual homes, and have raised our children in the spiritual traditions we were raised in. These homes provide a weekly opportunity to be thankful for grace and beauty, and accept that to all things there will come an end just as there was once a beginning. It keeps our humility, humanity, good humor, and compassion renewed—these are absolutely essential for both our home and professional lives.
What is your go-to Houston restaurant for a healthy meal?
When we're tired of cooking, a go-to Houston restaurant that is paleo-style is Corner Table in Upper Kirby.
Do you use a pedometer or Fitbit and what is your daily step goal?
JV: I like to use a Microsoft Band to track my maximal heart rate during exercise.
What is your favorite health tip that you live by?
If we have one motto for our path to living well, it would be is "everything in moderation, including moderation" (Julia Child). But each and every day we do make conscious decisions around whether what we do and how we do it will err on the side of giving more to the world around us than we take.
Additional Resources
Healthy habits: Daily goal to raise your heart rate
Dr. Amy McGuire's advice? Don't forget to breathe
See how Baylor stays fit with more healthy habits from members of our community
See how Baylor promotes a culture of healthy living and wellness