In Case You Missed It: New tool to help those with Parkinson's, living with childhood hepatitis C, and more
We hope that you enjoyed your week and are having a good start to your weekend. As always, thanks for joining us for our weekly roundup of news you may have missed.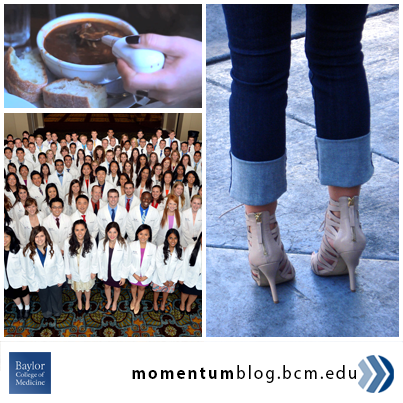 Shifting focus from the silverware to the meal
When eating, we all think about the food in front of us or the conversation taking place, rather than the actual act of eating. But those with Parkinson's disease tend to have a tougher time.
This article from The Atlantic features a high-tech spoon from Lift Labs that may help those who suffer from hand tremors. The way it works is that the spoon counteracts the movements and reduces the shaking by 70 percent.
View the Lift Lab's launch video below to see it for yourself.
Read about a new study, which will look at potential risk factors for Parkinson's.
Explore the Parkinson's Disease Center and Movement Disorders Clinic at Baylor College of Medicine.
Living with childhood hepatitis C
One Texas couple shares the story of their child, who was tested positive for childhood hepatitis C at age 2, in this EveryDay Health article. Their child, Austin, was healthy and had no symptoms of the disease.
Austin's doctor, Baylor College of Medicine Assistant Professor of Pediatrics Dr. Daniel Leung, said that kids living with hepatitis C should take special precautions, including that their blood and any other bodily fluids don't come into contact with anyone else.
Read the article to read about Austin's journey. 
Are you a baby boomer? Baylor College of Medicine doctors support the Centers for Disease Control and Prevention's recommendation regarding screening for hepatitis C – all baby boomers should get screened. Read more about screening recommendations for adults.
Strutting in stilettos to support breast cancer research
Early last Saturday morning, some Houston fashionistas weren't sporting comfortable house shoes while sipping coffee – they were at the Neiman Marcus Stiletto Strut, supporting the Lester and Sue Breast Center at Baylor College of Medicine.
Miss the Stiletto Strut? Read about it on the Houston Chronicle. Were you there? Share your experiences!
Making it to med school
Competitive grades and MCAT scores aren't always a competitive enough combination to make it into medical school. Often, the outcome of the personal interview is what guarantees the success of a medical school candidate.
Dr. Samir Desai and Dr. Rajani Katta, both from Baylor College of Medicine, have been on both sides of the interview table, and have published a new book on excelling in medical school interviews.
"Schools are looking for applicants who truly want to help people," Katta said in this Houston Chronicle article.
Learn about some of the Katta and Desai's perspectives on winning strategies.
See a profile of the newest class of medical students at Baylor.
-By Jordan Magaziner