Ask the expert: What to know about ovarian cancer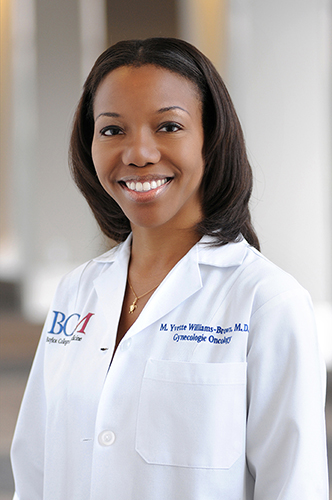 Often referred to as the "silent killer," ovarian cancer's mild symptoms can go undiagnosed in its early stages.
Dr. Marian Yvette Williams-Brown, assistant professor of Obstetrics and Gynecology at Baylor College of Medicine and a member of the surgical oncology team in the Dan L. Duncan Cancer Center, an NCI-designated Comprehensive Cancer Center, breaks down the basics of ovarian cancer in the Q&A below. 
What is ovarian cancer and how common is it?
Ovarian cancer is the second most common gynecologic malignancy and the most common cause of gynecologic cancer deaths.
Are there different types of ovarian cancer? If so, what are they?
Epithelial ovarian cancer is the most common type of ovarian cancer, with serous being the most common of the epithelial cancers. There are more rare ovarian cancers that arise from other ovarian cell types.
Read more about types of ovarian cancers.
What are the risk factors?
Risk factors include having a genetic predisposition, such as BRCA mutation or Lynch syndrome, to cancer, family history of ovarian cancer, infertility, and endometriosis.
What are the symptoms?
Ovarian cancer symptoms can include bloating, pelvic or abdominal pain, changes in urine or bowel habits, sensation of feeling full more quickly.
Is there a screening process for ovarian cancer?
For the general population, there is no recommendation to perform routine screening tests such as ultrasound or blood test for tumor markers because these tests have not been shown to decrease death rates for women with ovarian cancer.
However, women who have genetic mutations that increase their risk of developing ovarian cancer are advised to undergo screening with ultrasound and CA-125 if their ovaries have not already been removed.
What are the treatment options?
Treatment options usually involve removal of both tubes and ovaries along with a hysterectomy. In special populations with some rare ovarian cancers, there may be a possibility of fertility sparing surgery. Chemotherapy is typically used either before and/or after surgery for most ovarian cancers.
What can I do to help?
On Saturday, Sept. 19, 2015, Baylor College of Medicine's Woman to Woman Program is partnering with the Ovarian Cancer Research Fund for Ovarian Cycle Houston. The event will take place at LA Fitness Med Center from 2-5 p.m. For more information and to sign up, click here.
A portion of the proceeds will benefit Baylor's Woman to Woman program.