Starke lends expertise to national advisory committee to end tuberculosis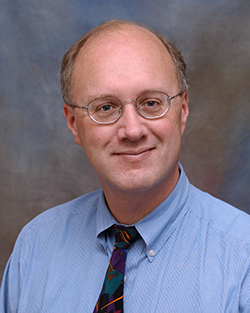 For the last three decades Dr. Jeffrey Starke, professor of pediatrics-infectious diseases at Baylor College of Medicine, has spent his career treating children infected with tuberculosis and advocating for policy improvements nationally and internationally to prevent disease.
Starke will lend his expertise to the Centers for Disease Control and Prevention for the next four years through an appointment on the Advisory Council for the Elimination of Tuberculosis. Starke first served on the council in the 1990s.
The council is the official body that provides advice and recommendations to the Department of Health and Human Services and the CDC leadership through policies, strategies and priorities to help end tuberculosis. The appointment is made by the U.S. Secretary of Health and Human Services.
We spoke with Starke about the appointment, TB and it's history at Baylor and in Houston, and more.
Q: What's a priority for you as you sit on this advisory council?
A: To maintain a focus on children, as well as drug development. Children with TB get sicker quicker and it's also harder to diagnose. So it's the worst of both worlds.
Traditionally, drug development and drugs have only been studied in children after they have been licensed for adults. None of the TB drugs that we use in Houston come in a pediatric dosage forms and that is also true throughout the world. We crush up pills and make suspensions. Something I'm really going to push is the role of the industry in children's medications. It's important for kids' safety to make sure we have the right doses in forms they can actually take.
Q: Having served on this advisory council in the 90s, what do you think has been the major changes in TB diagnosis and treatment?
A: There are a lot of new technologies being developed, but one of the questions becomes who should have what. We're asking what are the essential things hospitals should have in terms of technology and equipment, and what things should we be referring out to reference laboratories.
In the past 20 years there has been a lot of work with infectious disease control and how to stop the spread of TB in facilities like hospitals and in prisons. In the 90s, the big concern was catching TB on airplanes. By the way, you don't catch TB on airplanes.
Q: How did you get involved in research and treating tuberculosis?
A: When I started as an infectious disease fellow at Baylor, I was working on cystic fibrosis. There was a clinic at the old Jefferson Davis Hospital that took care of children with asthma and TB and Dr. Ralph Feigin (the Physician-In-Chief at Texas Children's) assigned the infectious disease service to care for the children with TB. I saw an opportunity to pursue research in TB, and happily for me, Dr. Katherine Hsu came out of retirement to be my personal mentor and work with me for a year and a half. It was during a time when researchers realized there was probably a link between HIV and tuberculosis and she encouraged me to pursue TB research.
Dr. Hsu came from China in the late 1940s and was involved in childhood TB until the 1980s. She did one of the most remarkable studies ever, where she followed 3,000 kids for 30 years to show that treating them for TB infection—that is having a positive skin test but not yet sick—is actually very effective in preventing the disease from developing.
She also was one of the inventors of modern tuberculosis control techniques that were modeled here in Houston and called family-centered contact investigation. The idea is that if there is a person in the household with TB, the most likely people in the community to develop TB next are the household contacts of that particular person. It seems so intuitively obvious.
So the only thing I take credit for is doing what she told me to do. That's how I got interested and I found it suited my personality. It allows me to build long-term relationships with patients and I like working in public health.
Q: Compared to the United States, what are the rates of TB in Houston like?
A: I always tell people there is good news and bad news; the bad news is we have enough TB in Houston that someone like me can actually build a career on it. The good news is we've knocked down the rates of TB in the city.
TB disproportionately impacts folks in lower socioeconomic groups. The national rate is 3 per 100,000 persons. The rate in Houston is probably closer to 10 per 100,000. The Houston area has about 400 cases per year and somewhere around 8-10 percent of those cases are in children and adolescents.
Tuberculosis is a social disease with medical implications. The medicine is interesting, but dealing with the social issues is by far more difficult with a lot of these families. For many of our families, TB is just one of many problems they need to deal with.
Treatment for TB disease still requires 3 or 4 drugs taken for at least 6 months. The extended effort for treatment is even a problem for TB prevention. The traditional treatment for TB infection is nine months of Isoniazid taken every day, a total of 270 doses.
For families without health insurance or a medical home, or for hourly wage workers who are worried about their next meal or if they have a job,TB treatment can be terribly disruptive because the length of treatment is so long.
Fortunately, a new treatment for infection combines Isoniazid with another drug that one only has to take once a week for 12 weeks, just 12 doses. We are figuring out the best way to use this new treatment and, so far, the results are very promising. We recently completed a study in Houston high schools showing that we can educate the students, identify those with risk for TB infection, test them and complete the 12 dose therapy at school with a high level of success.