How to ease acid reflux symptoms
Having problems with acid reflux? You're not alone. Dr. Hashem B. El-Serag, section chief of gastroenterology and hepatology at Baylor College of Medicine says the number of people experiencing acid reflux is increasing.
"The increase of acid reflux symptoms is partly due to the rising obesity rate and continued fast food (high fat and low fiber) consumption, along with inactive lifestyles," said El-Serag, who serves as the program leader of the Cancer Prevention and Population Sciences Program at Baylor's Dan L. Duncan Cancer Center, an NCI-designated Comprehensive Cancer Center.
In the infographic below, he shares symptoms and healthier habits you can adopt to help you feel better.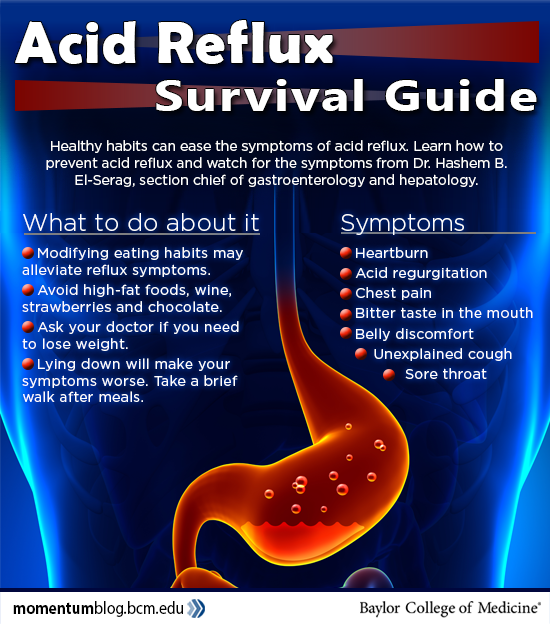 El-Serag recommends seeing a gastroenterologist if you are:
Older than 50 years
Have daily symptoms
Have a family history of Barrett's esophagus or esophageal cancer and reflux symptoms
For individuals with less frequent symptoms and of younger age, he recommends trying antacids or over-the-counter medications.
Additional Resources
Reducing your risk for esophageal cancer
Endoscopy: How does it work and what are the benefits?
Dan L. Duncan Cancer Center ushered into elite class of National Cancer Institute centers