Well woman exams should go beyond the Pap smear
When we hear about the importance of the well woman exam, many of us immediately think about Pap smear. While this is a critical aspect of maintaining gynecological health, Dr. Tara Harris, assistant professor of obstetrics and gynecology at Baylor College of Medicine, believes the well woman exam should help treat issues that cover emotional and mental health as well.
What to expect during a well woman exam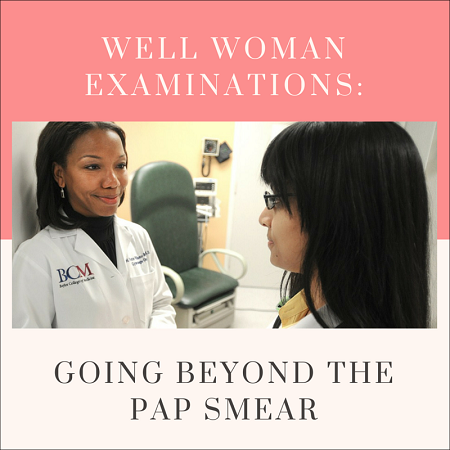 Dr. Harris says many women do not seek care outside of their OB-GYN. As a result, the well woman exam is often all-encompassing.
"The well-woman examination is an opportunity to screen, evaluate, counsel and immunize based on age-specific and patient specific risk factors. It is much more than just a Pap smear."
During the examination, patients should expect to be asked about a variety of risk factors, including family medical history and gynecologic history. Dr. Harris says it is important to be thorough when asked about your medical history.
"I'll ask about patients' surgical history, which includes caesarean deliveries.  I can't tell you how many women say 'oh, it's just a C-section,' but this is important information to us."
Dr. Harris says sexual behavior and social history should also be discussed during the visit to determine risk factors for disease and abuse.
"Women in particular are at risk for domestic violence. According to the World Health Organization, one in three women will be a victim of domestic violence in their lifetime. We can help you find resources to deal with this," she said.
Age-specific testing and risk factors
How often should you be tested for cervical cancer, breast cancer and sexually-transmitted diseases? Dr. Harris says it depends on age and risk factors.
The Pap smear, as well as human papillomavirus (HPV) co-testing, are used to detect cervical cancer and should not be performed prior to age 21.
"We don't test for HPV before 21 because it is so prevalent. Pretty much everybody who is sexually active has been exposed to HPV at some point. Most of the time, the virus will not progress to cervical cancer," she said.
The American Cancer Society recommends routine Pap smears every three to five years for women ages 21-65. However, Dr. Harris' personal recommendation is every three years.
"I don't know any providers actually spacing Pap smears out to five years. However, the official range is three to five so I don't want anyone to think their provider is wrong if they are doing it every five years," she said.
Dr. Harris suggests sexually-active women ages 13-64 should routinely receive HIV tests.
"Patients at high risk should be screened annually, and we suggest women and their partners be tested prior to each new sexual relationship."
Dr. Harris recommends that women should receive a mammogram every year starting at age 40. She also says every woman should be knowledgeable about familial cancer history and practice breast self-awareness.
"Everybody's breasts have lumps and bumps. The important thing is that you know where your lumps and bumps are so you can notice when there is a change," she said.
Other topics such as lipid profile, diabetes testing, immunizations, reproductive planning and emotional health should also be assessed depending on age and risk factors.
Additional Resources
To make a well-woman exam appointment with a Baylor OB-GYN, call (832) 826-7500.
Learn more about obstetrics and gynecology resources at Baylor.
-By Nicole Blanton