Reducing your risk for esophageal cancer
April is esophageal cancer awareness month, and Baylor College of Medicine's gastroenterology experts are reminding people that this type of cancer is treatable.
"The most common type of esophageal cancer in the United States is adenocarcinoma, and it is the fastest rising cancer in Caucasian men in this country," said Dr. Hashem El-Serag, chair of the Margaret M. and Albert B. Alkek Department of Medicine and professor of medicine-gastroenterology at Baylor. Risk factors for esophageal cancer are potentially modifiable and thus this cancer can be prevented to a large extent."
The predisposing disorder is called Barrett's esophagus.
These risk factors include: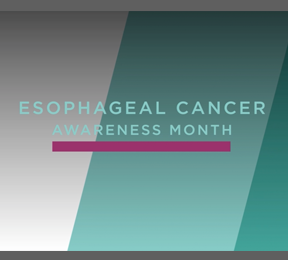 Gastroesophageal reflux disease (GERD)
Obesity (especially abdominal obesity)
Smoking
Older age
Family history
Barrett's esophagus
A patient's overall health can help decrease the risk of esophageal cancer. By maintaining a healthy weight, increasing dietary fiber, fruit and vegetable intake and not smoking, the risk can be significantly reduced. El-Serag also recommended that patients with GERD be treated and checked for Barrett's esophagus if he or she has had GERD for several years.
Barrett's esophagus, a precursor lesion to adenocarcinoma, can be detected through an endoscopy. People who are obese or have chronic acid reflux should consider having an endoscopy to be screened for Barrett's or adenocarcinoma, he said.
"Biopsies can be obtained during the endoscopy procedure to confirm the diagnosis," said El-Serag, leader of the Cancer Prevention and Population Science Program of the NCI-designated Dan L. Duncan Cancer Center. "We recommend that patients with Barrett's esophagus undergo surveillance with endoscopy every 2-3 years, as early stages of cancer can be detected."
Radiofrequency ablation and endoscopic mucosal resection are new therapies that removes Barrett's esophagus and early cancer, and is available at Baylor's gastroenterology clinic. Other state-of-the-art diagnostic and therapeutic tests include:
Esophageal stents
Endoscopic ultrasound
pH and impedance
High-resolution esophageal manometry
For more information or to make an appointment with one of Baylor's specialists, call 713-798-0950.