Eat this: Super Bowl food swap
Super Bowl XLVIII is upon us. But while you're busy debating the game, health experts suggest thinking about celery sticks versus chips and dip.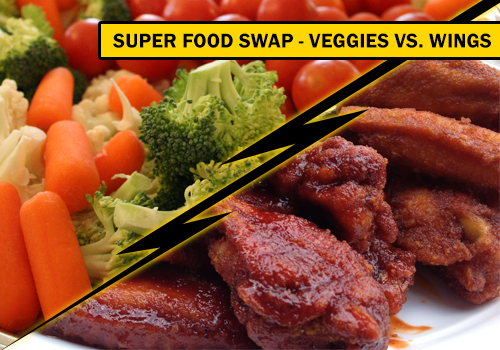 "You do not need to break the calorie bank this Super Bowl, especially if you are in charge of the menu," Dr. Luis Rustveld, registered and licensed dietitian and assistant professor in the Department of Family and Community Medicine at Baylor College of Medicine, said. "With the least amount of effort you can modify your favorite pre and post-game foods."
With that in mind we pulled together a team of  experts to advise sports fans on healthy ways to enjoy the big game.
Registered Baylor College of Medicine dietitian Roberta Anding offers some ideas for planning your snacks.
In recipes calling for sour cream substitute this "high fat fumble" for a low-fat Greek yogurt. Greek yogurt is high in protein and calcium.
Soft drinks are the most popular drink, but consider adding fruit juice and fruit slices to a sparkling water to add some variety to the festivities.
You can make a homemade cheese popcorn by air popping popcorn and spraying it with a no-stick spray or oil spritzer before sprinkling Parmesan cheese on the popcorn.  The little bit of oil in the spray makes the cheese stick.
As a main dish, homemade chili is a pro bowl choice.  Substitute lean ground turkey for the ground beef, double the beans and add some additional diced tomato and green peppers for extra vitamin C.  Serve with salsa, avocado and low fat tortilla chips.
Potatoes can be oven roasted instead of fried to eliminate extra calories.
Using alternate cooking methods like baking instead of frying is an easy way to cut calories, thanks to the elimination of oils. Rustveld offers ideas for preparing favorite dishes in a different way:
Instead of frying meats (like chicken wings), try grilling and seasoning with flavorful herbs and spices in lieu of adding high calorie, high sodium and high fat breading.
This year substitute french fries with baked sweet potato wedges. They are high in fiber and packed with nutrients.
Opt for a healthier alternative to traditional high fat and high calorie trail mixes. You can create your own by mixing whole grain goldfish crackers with almonds and dried cranberries.
Instead of offering dips and dressings high in calories and fat choose salsa or low-fat dips and dressings.
Those interested in a healthier lifestyle after the game is over can look up Dr. Rustveld at the The Weight Management Program from Baylor Family Medicine.
"The Weight Management Program teaches you small changes that will make a big difference in your weight and overall health," Rustveld said. "You will look better, feel better, increase your energy level, and reduce risk of developing weight-related chronic diseases such as diabetes, hypertension and cardiovascular disease."