Healthy Habits: Paolo Dugo aims for eight hours of sleep and enjoys playing basketball
It can sometimes be difficult to find ways to stay healthy, so we've asked members of our Baylor College of Medicine community to share what they do in their daily lives to maintain a healthy lifestyle.
Paolo Dugo, a physician assistant in the Department of Family and Community Medicine, shares some of his healthy habits with us.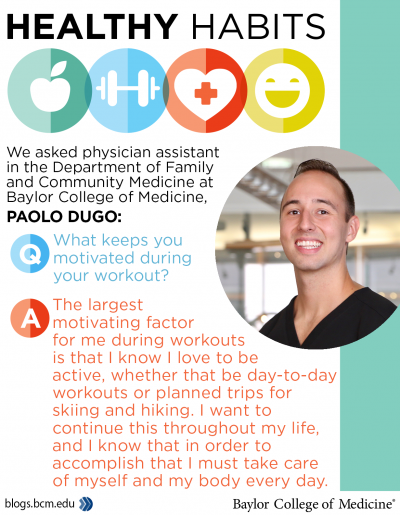 Question: What health decisions start your day? 
Answer: The health decision that starts or precedes my day is getting an appropriate amount of sleep, as this is a vital determinant of health. I aim for eight hours of sleep each night so that I have both the physical and mental energy to perform well at my job, as well as to exercise once I finish at work.
Q:  What is your go-to healthy breakfast? 
A: My go-to healthy breakfast is three egg whites with black pepper and salsa, a slice of wheat toast, and a naturally flavored Greek yogurt (of course with a cup of black coffee to pair!).
Q: What is your favorite type of exercise? 
A: My favorite type of exercise is strength training or weightlifting. I typically do this five times per week. I also enjoy playing basketball for cardio, usually once or twice a week.  Finally, I will use the elliptical while listening to podcasts or continuing medical education talks.
Q: What keeps you motivated during your workout? 
A: The largest motivating factor for me during workouts is that I know I love to be active, whether that be day-to-day workouts or planned trips for skiing and hiking. I want to continue this throughout my life, and I know that in order to accomplish that I must take care of myself and my body every day. Externally, I have a great community of friends at the gym that motivate and push me to constantly improve myself.
Q: What activities do you do when you can't fit in a full workout? 
A: If I cannot fit in a full workout, I will usually use the elliptical for whatever allotted time I can, or I will take a brisk walk outside.
Q: What have you been doing to stay healthy during COVID-19? Do you have any advice for coping with the pandemic? 
A: Now that things are normalizing during the COVID-19 pandemic, my health routines are essentially equivalent to what they were prior to it. However, during the pandemic I had to adjust my workouts. Instead of just watching shows on Netflix for example, I would watch them on my phone while using the elliptical. Additionally, I learned different whole-body resistance band and body weight workouts from YouTube and various websites that I could do anywhere, regardless of gym access. My advice for coping with the pandemic is to be patient and flexible. We may have to do things differently in our day-to-day lives, but there are always multiple solutions for any given goal, so if we can be patient and flexible then we will develop those skills, which will be applicable throughout life even when we move past the pandemic.
Q:  What is your favorite healthful snack? 
A: My favorite healthy snack is 3/4 cup of dry regular cheerios with 1/4 roasted unsalted mixed nuts.
Q: How do you make an unhealthy recipe healthy (healthy substitutions)? 
A: I have been working on improving recipes I use by reducing the salt load. I like to use herbs and spices not containing salt to replace it. I find that mixing garlic powder, curry powder, black pepper, and paprika makes for a good mix to replace salt on any meat or vegetable dish. Additionally I try to avoid any artificial sweeteners and stick with all natural substitutes (stevia, natural flavoring, etc.).  Finally, when it comes to oils I try to stick with extra virgin olive oil or avocado oil.
Q:  What hobbies do you have to help you relax? 
A: Weightlifting and playing basketball are both activities that help me relax. Outside of exercise however, I enjoy reading, binging Netflix/HBO shows and traveling.  When I am able to travel, skiing and hiking are some of my favorite hobbies to participate in during trips.
Q: What is your go-to Houston restaurant for a healthy meal? 
A: SweetGreen or Local Foods.
Q:  What is your favorite health tip that you live by? 
A: Your health is like renting an apartment. You cannot just pay for it up front, you have to pay rent every single month, otherwise you will lose it. You cannot just live healthy for one day and then you're done; instead, you have to choose to live healthy every day. If you don't, you risk losing portions of your health. Additionally, you cannot solely pay for the base rent, you also have to pay water, electric, etc.  Similarly, you cannot solely focus on physical exercise. You must also work on diet, sleep, mental health and any other aspect if you are to maintain a holistic healthy life.
Additional Resources: