Healthy Habits: Dr. Felicia Skelton-Dudley starts her day with quiet reflection and practices yoga
It can sometimes be difficult to find ways to stay healthy, so we've asked members of our Baylor College of Medicine community to share what they do in their daily lives to maintain a healthy lifestyle.
Dr. Felicia Skelton-Dudley, assistant professor in the Department of Physical Medicine and Rehabilitation, shares some of her healthy habits with us.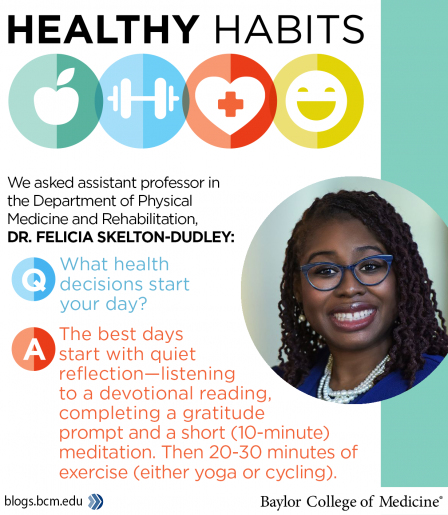 Q: What health decisions start your day?
A: The best days start with quiet reflection—listening to a devotional reading, completing a gratitude prompt and a short (10-minute) meditation. Then 20-30 minutes of exercise (either yoga or cycling).
Q: What is your go-to healthy breakfast?
A: I know it sounds strange, but cottage cheese and mangoes, with a bit of chili seasoning sprinkled on top!
Q: What is your favorite type of exercise?
A: Yoga is the one movement practice I've done consistently through my life. Depending on the type of practice, it's cardio, strength and flexibility all-in-one.
Q: What keeps you motivated during your workout?
A: The feeling of accomplishment when I finish. I may not always want to start a workout, but I never regret doing it when I'm done.
Q: What activities do you do when you can't fit in a full workout?
A: 10 minutes of chair yoga, stretching or jumping jacks in between Zoom calls.
Q: What have you been doing to stay healthy during COVID-19? Do you have any advice for coping with the pandemic?
A: I've just been more patient with myself. You can only run at 150% for so long. I remind myself that great is the enemy of the good.
Q: What is your favorite healthful snack?
A: A handful of almonds or grapes.
Q: What hobbies do you have to help you relax?
A: I pet my dog, take a warm bath and listen to music.
Q:  What is your favorite health tip that you live by?
A: Nothing in life is perfect, permanent or personal. It just is. Having that perspective helps me face whatever comes my way with grace and a lot of humor!
Additional Resources:
Healthy Habits: Dr. Chad Wilson enjoys running and golfing
Healthy Habits: A DOC-umentary Series – Dr. Sharmila Anandasabapathy
Healthy Habits: A DOC-umentary Series – Dr. Jill Weatherhead
Learn how Baylor promotes a culture of healthy living and wellness