Dr. Susan Rosenberg elected to the AAAS Board of Directors
During April 7-21, 2022, AAAS members elected two new members of the American Association for the Advancement of Science (AAAS) Board of Directors: Susan Rosenberg, Ph.D., the Ben F. Love Chair in Cancer Research at Baylor College of Medicine, and Jane Maienschein, Ph.D., University Professor and director of the Center for Biology and Society at Arizona State University. Rosenberg and Maienschein's terms begin immediately, and each will serve for four years on the Board.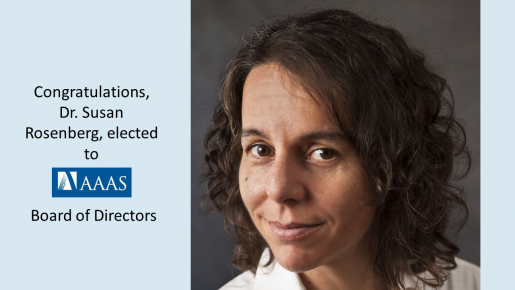 Rosenberg brings a wealth of scientific expertise to the AAAS governing body, which is responsible for the affairs of the association.
Rosenberg's research at Baylor focuses on molecular mechanisms of genome instability in evolution, antibiotic resistance and cancer. Rosenberg served as a Council Delegate for the AAAS Section on Biological Sciences and has conducted extensive work on the AAAS Governance Modernization Working Group. She was elevated to the rank of AAAS Fellow in 2010.
Read more about this honor here.
Learn more about the research work conducted at the Rosenberg lab:
Rosenberg is professor of molecular and human genetics, biochemistry and molecular biology and of molecular virology and microbiology at Baylor. She also is a member of Baylor's Dan L Duncan Comprehensive Cancer Center.
By Ana María Rodríguez, Ph. D.
Receive From the Labs via email