Healthy Habits: Dr. Yana Finkelshteyn enjoys jogging outdoors, paints to relax
It can sometimes be difficult to find ways to stay healthy, so we've asked members of our Baylor College of Medicine community to share what they do in their daily lives to maintain a healthy lifestyle.
Dr. Yana Finkelshteyn, assistant professor of family and community medicine at Baylor, shares some of her healthy habits with us.
Q: What health decisions start your day?
A: I love to start my day with a small breakfast and coffee. I take the time to log my breakfast even if I am in a rush. I also think about what exercise I will be able to fit in that day.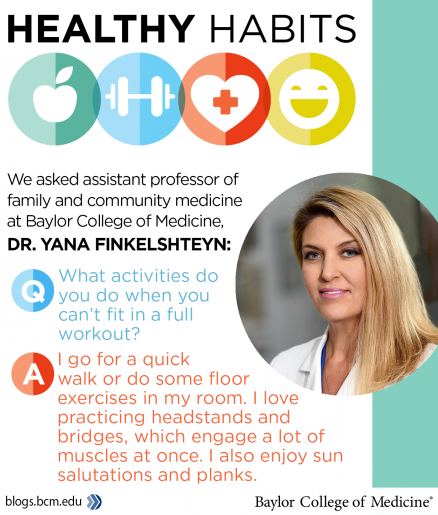 Q: What is your go-to healthy breakfast?
A: A typical weekday breakfast for me is a slice of whole grain toast with cheese or avocado and tomatoes or cucumber. I also have coffee with a plant-based milk like Califia toasted coconut almond milk. Oatmeal with berries and a veggie omelet are also on the rotation. On the weekends, I will sometimes make pancakes and have those with fresh fruit or berries.
Q: What is your favorite type of exercise?
A: I really enjoy exercise, and running outdoors has been my go to – especially during COVID-19. If I cannot run due to an injury, I will walk or use the elliptical at the gym. In recent years, I have become quite devoted to yoga and try to do a little bit on most days and longer sessions a couple of times per week.
Before COVID-19, I also enjoyed exercise classes at the YMCA, including barre class and some circuit training and weights as well. I had recently tried gyrotonics but stopped when the pandemic hit.
Q: What keeps you motivated during your workout?
A: Working out helps me stay positive and energetic. It is my "me time." I am motivated by the results I see, but I also love the process. I also love to listen to music during my workouts .
Q: What activities do you do when you can't fit in a full workout?
A: I go for a quick walk or do some floor exercises in my room. I love practicing headstands and bridges, which engage a lot of muscles at once. I also enjoy sun salutations and planks.
Q: What have you been doing to stay healthy during COVID-19? Do you have any advice for coping with the pandemic?
A: During COVID-19, I have been logging lots of miles of walking and running. Being outdoors helps me connect to nature and cope with the bad news and sadness. My advice for coping with the pandemic is to get outside as much as you can. If I go for a long walk, I often call a friend or family member to catch up. It is important to stay connected while we socially distance.
Q: What is your favorite healthful snack?
A: One of my favorite healthful snacks is blueberries. I also like nuts and dark chocolate.
Q: Do you take vitamins and if so, which ones?
A: I do not take vitamins every day, but I sometimes take Emergen-C packets when I am starting to feel run down or catching a cold. I take B-complex or B6 tablets for a few days of the month to prevent hormonal migraines and I take Vitamin D3 if the weather or my schedule has kept me indoors for several days or longer.
Q: What do you include in your child's lunch?
A: My children are now 11 and 14 and usually make their own lunches – but one thing they always include is fruit.
Q: How do you make an unhealthy recipe healthy?
A: A sure way to make any recipe healthier is to add veggies or make them the star of the meal.
Q: What is your nighttime skin regimen?
A: I am embarrassed to say I have not had a good skin care regimen all these years, but have recently changed that. I use a hyaluronic acid moisturizer and alternate that with a retinol product like Adapalene. In the mornings, I apply make-up containing SPF.
Q: What hobbies do you have to help you relax?
A: In addition to exercise and yoga I really love salsa dancing. Not much of that happening during right now, but I still love listening to music and I sometimes dance around the house with my kids. I like to draw and paint but have not really felt inspired during the pandemic. I like to take photographs especially of nature and animals and often photograph wildlife when I am out on walks. My family also has lots of pets, which keep me busy but also help me relax.
Q: What is your go-to Houston restaurant for a healthy meal?
A: My go to for a healthy meal is my kitchen. I try to limit meals outside of the home, which has been easy during the pandemic. I do like the social aspects of going out to eat or meeting for happy hour. As a Houston Ballet mom I must give a shout out to Niko Niko's, Boomtown Coffee (which unfortunately is closing due to the pandemic), and Batanga for keeping ballet moms fed and watered.
Q: Do you use an activity tracker or Fitbit and what is your daily step goal?
A: I use a FitBit tracker. I track exercise and calories. My daily step goal is 10,000 steps but my main goal is to stay in a calorie deficit on most days. There are days that I may get over 15,000 steps and other days that I am sedentary, but on those days I try to adjust my caloric intake to match my decreased energy expenditure.
Q: What is your favorite health tip that you live by?
A: I love this Michael Pollan quote: "Eat food. Not too much. Mostly plants." The other health tip relates to exercise. It is really the only fountain of youth that we have found so far.
Additional Resources
Virtual workouts, swimming help Dr. Juliet Holder-Haynes stay motivated
Dr. David Xu enjoys morning jogs, hikes to relax
Read more healthy habits from members of our community.
Learn how Baylor promotes a culture of healthy living and wellness.