Healthy Habits: Virtual workouts, swimming help Dr. Juliet Holder-Haynes stay motivated
It can sometimes be difficult to find ways to stay healthy, so we've asked members of our Baylor College of Medicine community to share what they do in their daily lives to maintain a healthy lifestyle.
Dr. Juliet Holder-Haynes, assistant professor of surgery and bariatric surgeon with the Weight Loss and Metabolic Center at Baylor, shares some of her healthy habits with us.
Q: What health decisions start your day?
A: I try to drink about a half liter of water, but I'm generally not a morning person, so working out in the morning isn't feasible.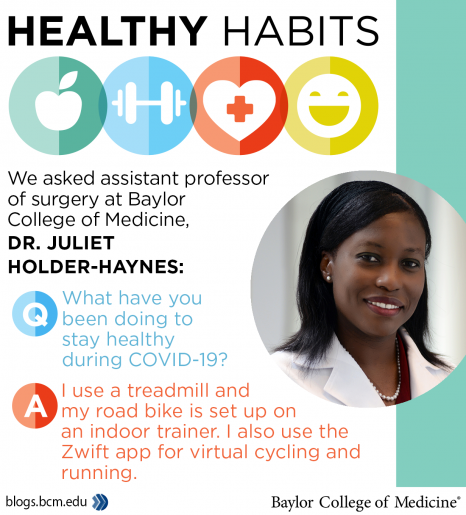 Q: What is your go-to healthy breakfast?
A:  Typically I'm on the go, so breakfast usually includes eggs of some kind.
Q: What is your favorite type of exercise?
A: I enjoy alternating between running and cycling. Recently, I have been trying jump rope workouts. Swimming provides the most relaxation, but that has been severely limited due to the COVID-19 pandemic.
Q: What keeps you motivated during your workout?
A: I think about the progress I've made and that continued improvement depends on pushing beyond my fear. It's an ongoing struggle.
Q: What activities do you do when you can't fit in a full workout?
A: Jump rope is a good whole body activity that you can fit in when you're crunched for time.
Q: What have you been doing to stay healthy during COVID-19?
A: I use a treadmill and my road bike is set up on an indoor trainer. I also use the Zwift app for virtual cycling and running.
Q: What is your favorite healthful snack?
A: Almonds. I also like making "chia pudding" by mixing chia seeds with a protein shake.
Q: Do you take vitamins and if so, which ones?
A:  I take B vitamin complex, vitamin C and vitamin D.
Q: How do you make an unhealthy recipe healthy?
A: I try not to make unhealthy recipes, but if I eat something unhealthy I try to limit the amount I eat. To make unhealthy meals healthy, I tend to do the following: discard bread, remove breading, remove chicken skin and visible fat, and avoid gravy. Instead of covering my entire salad with dressing, I dip my fork into the dressing before the salad.
Q: What is your nighttime skin regimen?
A: I try to always have moisturizer nearby: in my car, bedside table, jacket pocket. I always moisturize before bedtime.
Q: What hobbies do you have to help you relax?
A: My extra time was pretty much taken up with pursuing my MBA over the last two years, so my hobby of throwing pottery went out the window. Currently, I enjoy biking, running and swimming. Of the three, swimming helps me the relax the most.
Q: What is your go-to Houston restaurant for a healthy meal?
A: Zoës Kitchen.
Q: Do you use an activity tracker or Fitbit and what is your daily step goal?
A: I wear a Garmin watch, which has a step counter. My daily goal is 15,000 steps.
Q: What is your favorite health tip that you live by?
A: Use it or lose it.
Additional Resources
Dr. David Xu enjoys morning jogs, hikes to relax
Nutritious breakfasts, HIIT workouts help Dr. Ranjani Amin stay fit
Read more healthy habits from members of our community.
Learn how Baylor promotes a culture of healthy living and wellness.