Healthy Habits: Dr. David Xu enjoys morning jogs, hikes to relax
It can sometimes be difficult to find ways to stay healthy, so we've asked members of our Baylor College of Medicine community to share what they do in their daily lives to maintain a healthy lifestyle.
Dr. David Xu, assistant professor of neurosurgery at Baylor, shares some of his healthy habits with us.
Q: What health decisions start your day?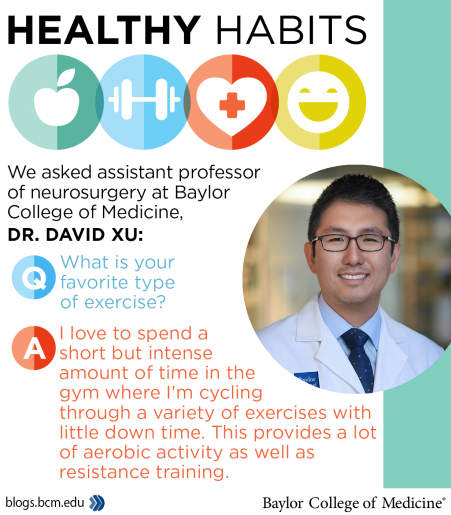 A: My very first decision when I wake up is deciding how and if I can fit in a bit of morning exercise before I get to work. Typically, I wake up 1-2 hours before work, and I take my dog out on a leisurely walk or a longer jog if I'm short on time.
Q: What is your go-to healthy breakfast?
A: Coffee and a piece of fruit.
Q: What is your favorite type of exercise?
A: I love to spend a short but intense amount of time in the gym where I'm cycling through a variety of exercises with little down time. This provides a lot of aerobic activity as well as resistance training
Q: What keeps you motivated during your workout?
A: I typically listen to energizing music or an interesting podcast and makes the time go by.
Q: What activities do you do when you can't fit in a full workout?
A: If I don't have enough time, I will devote all of my time to a compound exercise such as lunges or pullups, and keep on repeating additional reps with lower resistance until I'm spent.
Q: What is your favorite healthful snack?
A: Stove top popcorn drizzled with olive oil, salt and pepper.
Q: What hobbies do you have to help you relax?
A: In the wintertime, I like to snowboard. In warmer weather, I enjoy hiking. I also love playing video games and unwind every now and then with an hour of gaming.
Q: What is your go-to Houston restaurant for a healthy meal?
A: Flower Child is an amazing restaurant with delicious vegetarian/vegan options. Even though I'm not vegetarian or vegan – I can easily follow both diets at the restaurant.
Q: What is your favorite health tip that you live by?
A: A healthy diet is 95% of the work involved with maintaining a healthy weight. There are so many complex and fad diets out, but the best advice I've ever heard is from author Michael Pollan, who simplifies it into three ideas:
Eat real food: try to pick foods that have been minimally processed and preserved.
Eat mostly veggies: Maximize vegetables as the majority of your diet.
Not too much: Portion control and moderation is important no matter what you're eating.
Additional Resources
Nutritious breakfasts, HIIT workouts help Dr. Ranjani Amin stay fit
Dr. Julieana Nichols enjoys jazzercise, taking walks with family
Read more healthy habits from members of our community.
Learn how Baylor promotes a culture of healthy living and wellness.