Healthy Habits: Dr. Siripoom McKay enjoys fruit smoothies, gardening to relax
It can sometimes be difficult to find ways to stay healthy, so we've asked members of our Baylor College of Medicine community to share what they do in their daily lives to maintain a healthy lifestyle.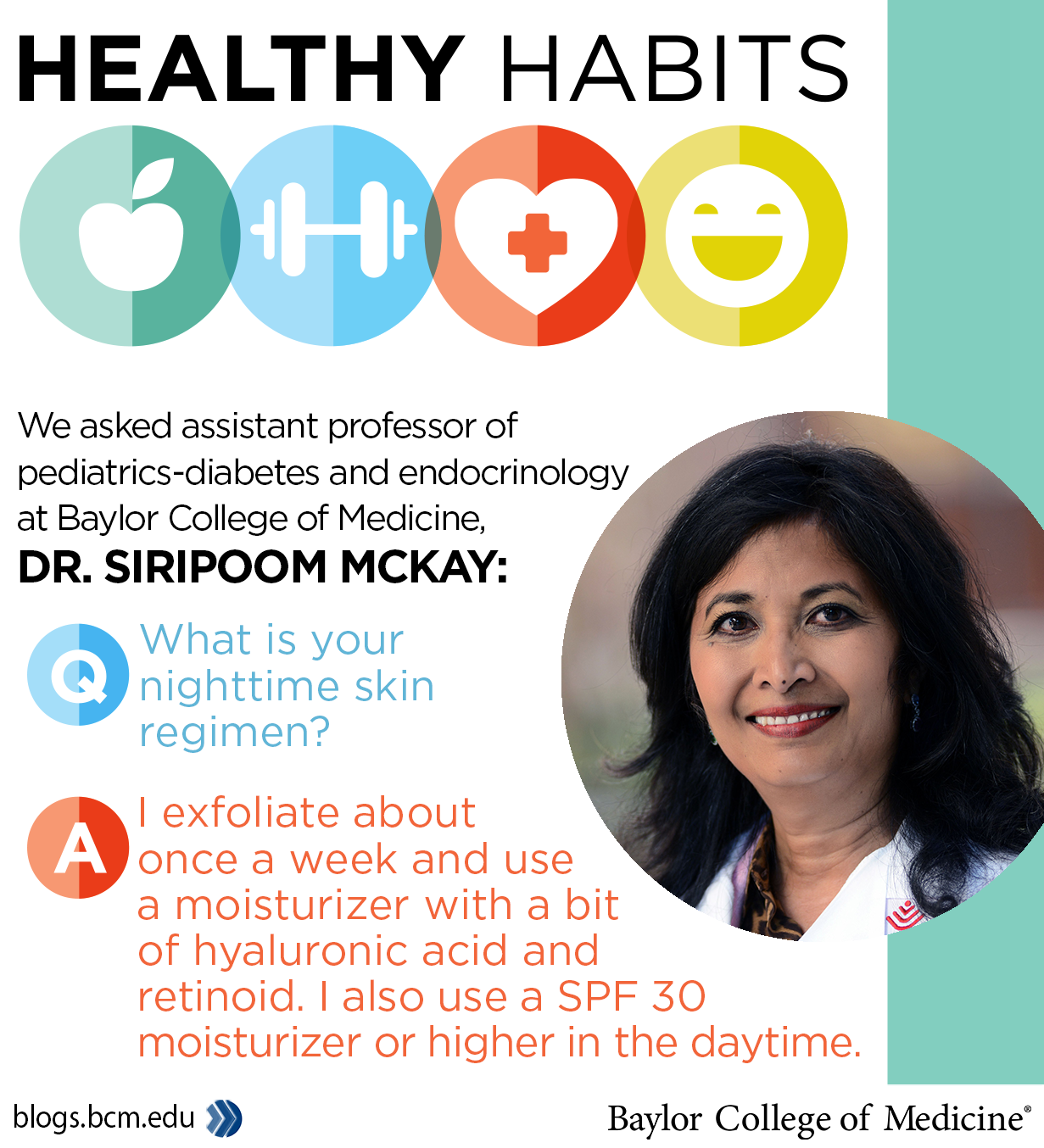 Dr. Siripoom McKay, medical director of the Young Adult Diabetes Clinic and assistant professor of pediatrics-diabetes and endocrinology at Baylor, shares some of her healthy habits with us.
Q: What is your go-to healthy breakfast?
A: Oatmeal with dab of orange marmalade or jok, which is an Asian rice porridge.
Q: What is your favorite type of exercise?
A: I am an avid walker, so I often enjoy walking with a friend.
Q: What keeps you motivated during your workout?
A: Talking with friends or looking at houses and trees.
Q: What is your favorite healthful snack?
A: Definitely fruits. Berries are quick and require no prep. Mangoes are also in season right now. I also enjoy a fruit smoothie with some whey protein.
Q: How do you make an unhealthy recipe healthy?
A: It depends on the recipe. I use a healthier oil option with more mono or poly-saturated fats. Canola, olive or avocado oils are good options.
I also may add more vegetables to the dish. You can add puree-cooked vegetables to sauces like spaghetti or chili. The trick is not to overdo it; the taste should not drastically change.
Ground turkey or chicken are great in lieu of ground pork or beef, even if it's only for half the recipe. If you like the taste of beef, choose a leaner cut.
Q: What is your nighttime skin regimen?
A: I exfoliate about once a week and use a moisturizer with a bit of hyaluronic acid and retinoid. I also use a SPF 30 moisturizer or higher in the daytime.
Q: What hobbies do you have to help you relax?
A: Reading, gardening and walking. I travel with my Kindle. On vacation, we can easily complete10-12 miles of walking every day.
Q: What is your go-to Houston restaurant for a healthy meal?
A: I love to go to restaurants as a treat about once every two weeks. However, it is challenging to find nutritious foods that are not high-calorie dishes at restaurants. One good option is to order one or two appetizers or to share an entree.
Q: Do you use a pedometer or Fitbit and what is your daily step goal?
A: I track miles on my watch. I aim for at three miles at work.
Q: What is your favorite health tip that you live by?
A: Enjoy food in moderation, and find an activity (hobby or exercise) that reduces your stress level.
Additional Resources
Expressing gratitude, spending time outdoors key for Dr. Alicia Kowalchuk
Dr. Milena Gould Suarez focuses on running, nutritious substitutions
Read more healthy habits from members of our community.
Learn how Baylor promotes a culture of healthy living and wellness.