From my perspective: Dr. Joshua Adams shares his experiences in Baylor College of Medicine's M.D./Ph.D. program
From the Labs interviewed Dr. Joshua M. Adams to learn about his experiences during his training in Baylor College of Medicine's M.D./Ph.D. program. He has concluded the Ph.D. part of his training and took time out of his busy M.D. training schedule to answer our questions about his professional interests, how he overcame hurdles he encountered along the way and the highlights of his research work.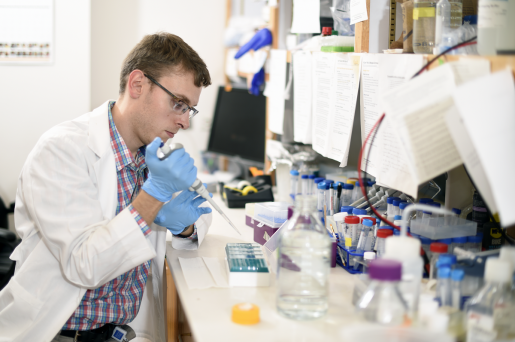 FTL: What led you to choose this area of research for your thesis work and specifically the lab you are in at Baylor? 
JA: As an M.D./Ph.D. student I have a clinical interest in pediatric neurology, but I was looking for something broader in my Ph.D. training. I chose to focus on developmental biology originally because I enjoyed being surrounded by researchers studying a diversity of diseases and problems. Dr. Jafar-Nejad's lab, where I completed my Ph.D. training, in particular, was interesting to me as it didn't specialize in one particular disease, but rather on how modifications to signaling pathways could lead to improper development.
The work on Alagille syndrome fascinated me because it is primarily the result of a mutation in a single gene, and yet there is such a wide spread of unexplained disease outcomes and severities. As a clinician, this is frustrating as it limits what you can do for a patient and what you can tell a parent or a child about what they can expect. I wanted to better understand how this clinical diversity came to be. I think it has applications across clinical and scientific fields.
FTL: When you are talking with people outside research, how do you explain your work and its importance?
JA: I tell them that Alagille syndrome is not a simple disorder. It has extreme variability that is unexplained by our current knowledge in the field. Our work started with the goal of understanding the basis of this variability, but it has since evolved into an attempt to improve the disease outcome in patients with Alagille syndrome. Sox9 is not just a potential modifier, it may be a key to improving liver function just enough to avoid the need for liver transplant. And beyond Alagille itself, Sox9 teaches us just how important other genes and signaling pathways are in determining the outcome of a genetic disorder.
Research shows how we sometimes need to look beyond the problem in front of us to find a solution.
FTL: Were there specific techniques you had to master for this work? If so, what resources at Baylor College of Medicine did you draw on to learn these?
JA: When I entered the lab, I needed to learn how to analyze bile duct development in a quantitative way. This is important because determining the effect that a genetic modifier has on Alagille syndrome requires a reliable method of analyzing bile duct development. I learned from a former postdoc, Dr. Shakeel Thakurdas, how to count and determine bile duct density in the liver, a method I honed, modified and mastered over time in the Ph.D. program.
FTL: Are there any moments from your work on this project that particularly stand out either as an exciting discovery or a specific challenge/road block you had to overcome?
JA: I remember when I first got back the results showing that increasing Sox9 gene dosage had such a dramatic and positive effect on bile duct development. I had previously found that reducing Sox9 levels worsened the disorder, but to find that a small increase resulted in such improved bile duct density was amazing. It offered the possibility that this gene could be a key to develop future treatment modalities that could profoundly impact patients' lives.
FTL: How has being at Baylor helped you overcome obstacles during your time in the M.D./Ph.D. program?
JA: Both my graduate program and the MSTP (M.D./Ph.D.) program have been incredibly supportive throughout my training. There was never a time I couldn't go to my program directors and gain help, advice or support.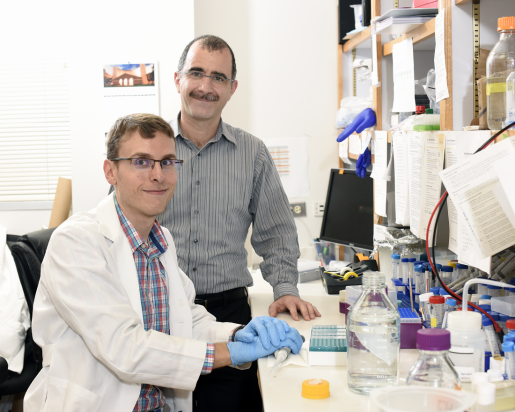 FTL: Has being at Baylor opened unexpected possibilities for your professional development?
JA: As Baylor is part of the Texas Medical Center, being here has allowed me to interact with many different clinician-scientists. It has opened my eyes to different possibilities for a future career in academic medicine that wouldn't be possible at a smaller institution or medical center.
FTL: What are your future career plans and how did working on this project contribute to your goals?
JA: I am planning on pursuing a residency in pediatric neurology under a research track residency program. Working on a liver-developmental disease project may at first seem disconnected, but it taught me so much about basic science, how to approach and consider all aspects of a project in ways that will help my future academic career.
My Ph.D. training taught me how to be a scientist and has given me the tools and personal and professional connections I need to approach any future academic problem.
FTL: What are your favorite things to do outside the lab? Has living in the Houston area helped you enjoy those activities?
JA: My wife and I love to go for runs in the many parks around Houston. We also love the art scene. It is amazing the number of world class large and small museums there are in this city!
Read all the details of Dr. Adams's work on Alagille syndrome in the journal Hepatology and in From the Labs.
Baylor College of Medicine's Graduate School of Biomedical Sciences offers a diversity of programs. For more information, visit this website.
Receive From the Labs via email