A health policy postdoc's perspective on ASHG
The American Society of Human Genetics (ASHG) annual meeting drew more than 8,000 attendees to Houston last week. The exhibit hall was buzzing with colorful displays from industry representatives, flanked on each side by hundreds of academic posters representing some of the world's most cutting-edge basic, translational, and implementation science research in human genomics.
I'm not a bench scientist or a clinical geneticist. Although ASHG is widely known as the go-to conference for population-level genomic research, social science and genetic counseling themes are woven throughout.
As someone interested in the ethical, social and legal implications of human genetics, I had a full schedule of academic presentations to attend. Walking through the industry exhibits can be educational, too. It's a great way to get a crash course on innovations in genetic testing and service delivery models and to spark research ideas.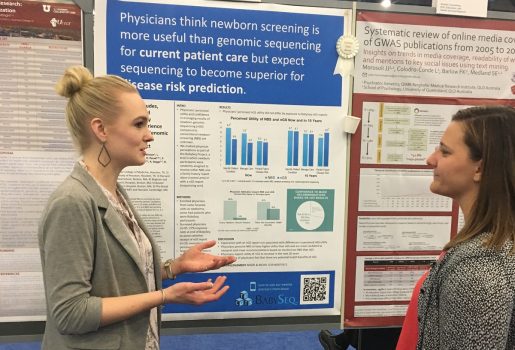 For example, I think a lot about access to genetic services, and was able to hear about a company that uses chat bots to deliver genetic counseling. Learning about new services and tests helps keep research current, which can be a challenge for social scientists like me who want to study the impact of such a rapidly changing clinical area as genomics. However, conferences like ASHG are helpful for bringing together industry and academics to enable relevant evaluations.
Investigators from our Center and many of our collaborators presented research this year. I presented on clinicians' perceived utility of newborn genomic sequencing compared to standard newborn screening at the end of the BabySeq project.
Rebecca Hsu, our research coordinator, also had a poster on findings from the MilSeq project, a pilot study examining the process of incorporating genome sequencing into the United States Air Force military health system.
Our Director, Dr. Amy McGuire, participated in a panel on the use of DNA in the public sphere and presented results from a recent public opinion survey on law enforcement's use of genetic genealogy for various forensic purposes.
To follow up on the panel discussion, our Dr. Christi Guerrini led an interactive session among a smaller group. Investigative uses of genealogy databases certainly generated a lively discussion with interesting questions, particularly related to regulation of private companies and international perspectives on DNA forensics.
The discussion served as another important reminder that the way we design studies in academic research should always seek to generate evidence that is relevant to decision-makers.
Whether the goal is to inform clinical policy, payer policy, public policy, or help individual patients navigate tough treatment decisions, our studies should be designed in such a way that the results reduce uncertainty in decision-making.
As a postdoc, I'm discovering how to navigate the world of research funding. I've learned a lot on the job about working on grant-funded projects and even contributing to collaborative grant writing. Even still, the slew of acronyms and unknowns of the review process can make the grant application process feel overwhelming and intimidating at times. There was special emphasis on grants among the several workshops and panels geared toward trainees.
ASHG provided a fantastic opportunity to hear NIH program officers explain the logistics of grant submission and review as well as hear from investigators at various stages in their careers who have successfully established research programs. Sitting in a room with other early-stage investigators is also a helpful reminder that none of us are alone in this process.
There was also a thought-provoking panel on the successful collaboration with genetic counselors on research projects. Genetic counselors have a pivotal role in all of the projects in which I am currently involved. It's great to see ASHG highlight the contribution of counselors to the research process and their ability to conduct important research on their own.
It is encouraging to see the representation of genetic counselors and other researchers interested in evaluation of clinical genetics, including health economists, health services researchers, bioethicists and social scientists. The opportunity to learn from researchers outside of my area of expertise is something that I've always enjoyed.
Now that I'm a postdoc, I have an even greater appreciation of the value of conferences to help foster research careers: sparking research ideas, learning how to write a grant to study those ideas, and connecting with multidisciplinary collaborators who strengthen those ideas and make conducting the research possible.
-By Hadley Stevens Smith, Ph.D., M.P.S.A., health policy fellow in the Center for Medical Ethics and Health Policy at Baylor College of Medicine