Healthy Habits: Expressing gratitude, spending time outdoors key for Dr. Alicia Kowalchuk
It can sometimes be difficult to find ways to stay healthy, so we've asked members of our Baylor College of Medicine community to share what they do in their daily lives to maintain a healthy lifestyle.
Dr. Alicia Kowalchuk, associate professor of family and community medicine at Baylor, shares some of her healthy habits with us.
Q: What health decisions start your day?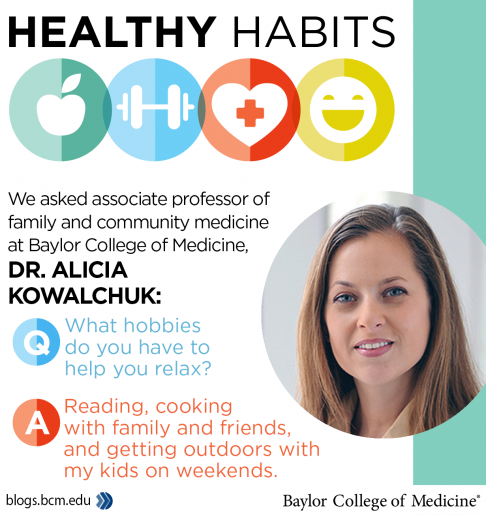 A: I start and end each day with a few minutes of gratitude journaling.
Q: What is your go-to healthy breakfast?  
A: Sprouted whole-grain toast with avocado or low-fat cottage cheese and a banana.
Q: What is your favorite type of exercise?  
A: Yoga.
Q: What keeps you motivated during your workout?
A: Yoga helped me with some back issues, and I know I won't feel my best if I skip more than a few days of practice.
Q: What activities do you do when you can't fit in a full workout?  
A: A few sun salutations or a seven-minute HIIT workout.
Q: What is your favorite healthful snack? 
A: Air-popped popcorn with a spritz of avocado oil and a dash of adobo. I also enjoy frozen Greek yogurt bars when I'm craving something sweet.
Q: What do you include in your child's lunch?
A: We aim for a protein, complex carb, fruit and veggie combo. My 12-year-old loves hummus sandwiches on sprouted whole grain, any type of berries, and salad. My six-year-old loves peanut butter and jelly on sprouted whole grain, a cheese stick, apple slices and diced cucumber/tomato salad.
Q: How do you make an unhealthy recipe healthy (healthy substitutions)?
A: I make 'nice cream' instead of ice cream: Frozen bananas with a splash of vanilla extract blended until smooth (substitute a few pitted dates and a scoop of cocoa powder for chocolate flavor). It could also include any other frozen fruit is on hand, or a scoop of peanut butter for added flavor and protein.
Q: What is your nighttime skin regimen?
A: Gentle cleanse with drugstore cleansing oil followed by 10% glycolic acid and a drugstore moisturizer.
Q: What hobbies do you have to help you relax?  
A: Reading, cooking with family and friends, and getting outdoors with the kids on weekends.
Q: What is your go-to Houston restaurant for a healthy meal?
A: True Foods Kitchen.
Q: What is your favorite health tip that you live by?  
A: Breathe in, breathe out.
Additional Resources
Dr. Milena Gould Suarez focuses on running, nutritious substitutions
Low-carb meals, family time help Lisa Yutong Tian stay balanced
Read more healthy habits from members of our community.
Learn how Baylor promotes a culture of healthy living and wellness.