'Tis the season: Kids, colds and cough medicines
Have a kiddo with a cold? If they are 6 years old, cough and cold medicine can help ease their symptoms, according to Dr. Julieana Nichols. 
"The U.S. Food and Drug Administration recommends against the use of over-the-counter cough and cold medications in children younger than six," said Nichols, associate professor of pediatrics-academic general medicine at Baylor College of Medicine and a physician at Texas Children's Hospital. "They do not work in this age group, and there have been too many reported deaths and overdoses in young children. There is no benefit and too many risks associated with these children taking them."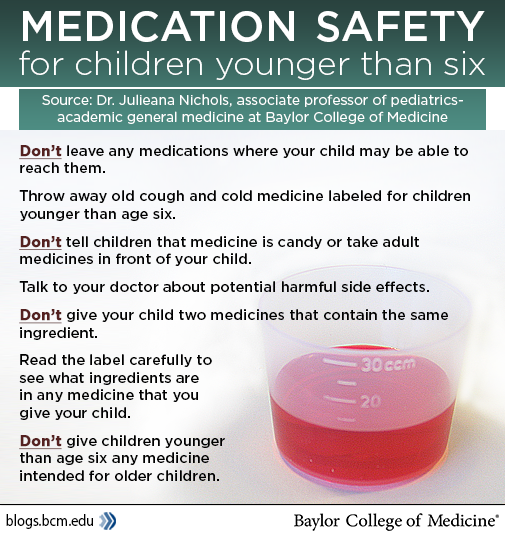 Alternative therapies
Risks associated with the ingredients in these medications can cause serious heart-related events, respiratory problems, hallucinations, sedations, anorexia, psychosis and seizures to name a few, she said.
Some alternative therapies with natural ingredients may help with symptom relief, said Nichols. Aromatic vapors and nasal saline may help with congestion and cough. Honey and lozenges may help with sore throat and cough.
But rest and relaxation is the best medicine, Nichols said. "With time and a good night's sleep, the cold will go away."
Additional Resources
Trouble sleeping? Our experts say antihistamines shouldn't be used as sleep aids.
-By Glenna Picton