Healthy Habits: Outdoor activities, nutritious snacks help Dr. Ihab Hamzeh stay fit
Taking care of your health is a priority and nobody knows that more than physicians and healthcare providers.
In recognition of American Heart Month, we've asked members of our Baylor College of Medicine community to share what they do in their daily lives to maintain a heart-healthy lifestyle.
Dr. Ihab Hamzeh, associate professor of medicine-cardiology at Baylor, shares some of his healthy habits with us.
Q: What healthy decisions start your day?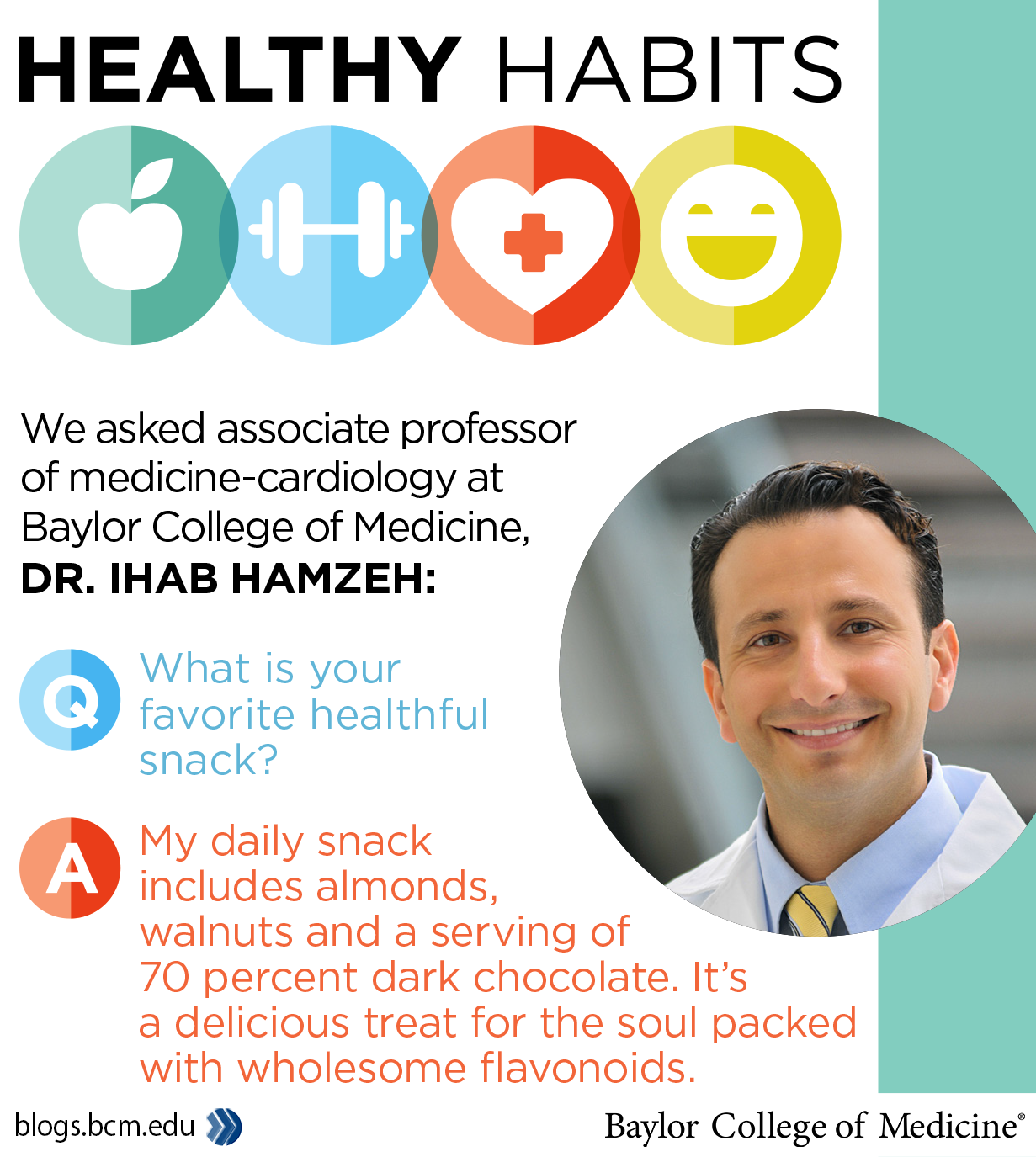 A: After drinking my coffee, I do a four-minute routine of stretching coupled with deep breathing and core strengthening exercises.
Q: What is your go-to healthy breakfast?
A: My favorite is one boiled egg dressed with seven spices, followed by one lime or lemon Greek yogurt. On other days, I may eat flaxseed oatmeal or yogurt alone with a side of fruit (I prefer apple, orange or mango slices).
Q: What is your favorite type of exercise?
A: I like to mix it up. I enjoy biking outdoors – you can easily burn more than 500 calories in one hour. At the gym, I split my time – 65 percent aerobic and 35 percent weights and machines.
Q: What keeps you motivated during your workout?
A: I enjoy the changing scenery during biking and my favorite music keeps me going at the gym. Watching a nice football or soccer game makes time fly while on the treadmill.
Q: What activities do you do when you can't fit in a full workout?
A: At work, I always use the stairs to go up, and I average more than 10 flights every day. If I only have 15 or 30 minutes, I usually go for a brisk walk.
Q: What is your favorite healthful snack?
A: My daily snack includes almonds, walnuts and a serving of 70 percent dark chocolate. It's a delicious treat for the soul packed with wholesome flavonoids.
Q: Do you take vitamins and if so, which ones?
A: I only get my vitamins from their raw source – fruits and vegetables.
Q: What do you include in your child's lunch?
A: Fruits are always there!
Q: How do you make an unhealthy recipe healthy (healthy substitutions)?
A: I try to keep my distance from 'unhealthy' as much as possible!
Q: What hobbies do you have to help you relax?
A: Regularly biking and listening to music. I also hike, snorkel or stand-up kayak when possible.
Q: What is your go-to Houston restaurant for a healthy meal?
A: Home is always my best bet for a gourmet and healthy destination, otherwise it will be a good Sushi restaurant.
Q: Do you use a pedometer or Fitbit and what is your daily step goal?
A: I got a Garmin Vivoactive 3, which I really like. I average 10,000 steps and 11 floors per day. I am thinking about getting the Apple Watch 4 to experiment with its ECG capabilities.
Q: What is your favorite health tip that you live by?
A: Make sure you find healthy diet and exercise activities that you genuinely enjoy, otherwise it will not be sustainable. And I try to avoid eating anything after 7 p.m.
Additional Resources
Dr. Allison Clark enjoys team sports, podcasts and cookbooks
Family time, water color painting keep Dr. Marcella Donaruma active
Tasty and nutritious: Try these five heart-healthy foods
Six lifestyle changes to reduce risks of cardiovascular disease