Healthy Habits: Dr. Allison Clark enjoys team sports, podcasts and cookbooks
Taking care of your health is a priority and nobody knows that more than physicians and healthcare providers.
It can sometimes be difficult to find ways to stay healthy, so we've asked members of our Baylor College of Medicine community to share what they do in their daily lives to maintain a healthy lifestyle.
Allison Clark, Ph.D., assistant professor of physical medicine and rehabilitation at Baylor, shares some of her healthy habits with us.
Q: What health decisions start your day?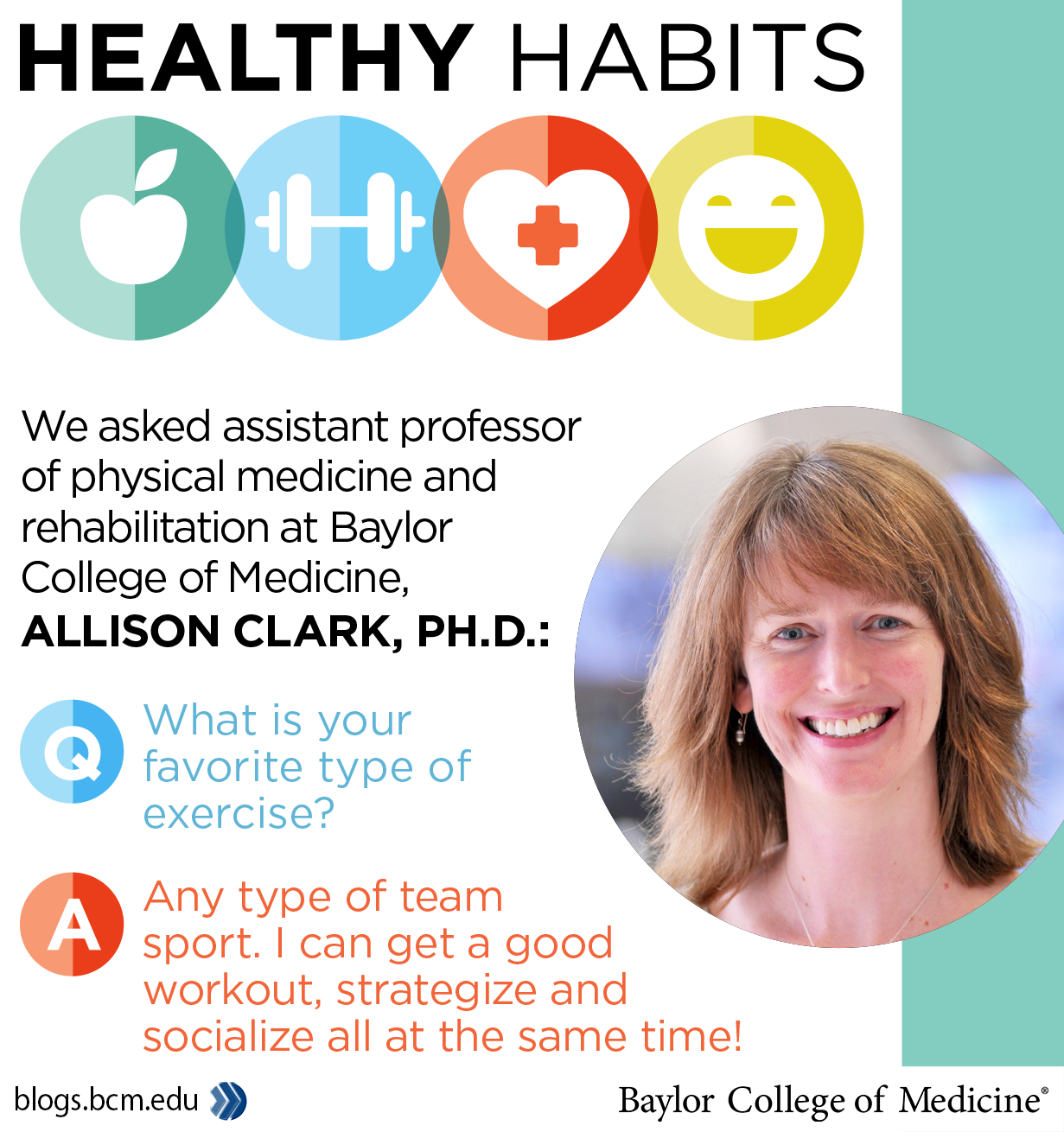 A: Stretching and listening to NPR to stay informed about the world around me.
Q: What is your go-to healthy breakfast?
A: Good old-fashioned oatmeal topped with raisins.
Q: What is your favorite type of exercise?
A: Any type of team sport. I can get a good workout, strategize and socialize all at the same time!
Q: What keeps you motivated during your workout?
A: I feel better, sleep better and manage stress better when I exercise regularly.
Q: What activities do you do when you can't fit in a full workout?
A: Walk (fast!) as much as possible, either before or after work.
Q: What is your favorite healthful snack?
A: Honeycrisp apples.
Q: Do you take vitamins and if so, which ones?
A: No – I just focus on a balanced diet.
Q: What do you include in your child's lunch?
A: A sandwich on whole wheat bread, fruit or veggies (carrot sticks, cantaloupe) and water.
Q: How do you make an unhealthy recipe healthy (healthy substitutions)?
A: I am not much of a cook so I rely on healthy cookbooks. I aim for a colorful plate with a mix of veggies, use whole grains as much as possible, bake rather than fry, and watch my portion size.
Q: What is your nighttime skin regimen?
A: Cleanse and moisturize.
Q: What hobbies do you have to help you relax?
A: I listen to podcasts, yard work and read.
Q: What is your go-to Houston restaurant for a healthy meal?
A: Local Foods.
Q: Do you use a pedometer or Fitbit and what is your daily step goal?
A: No. If I have a relatively sedentary day, I walk more the following day.
Q: What is your favorite health tip that you live by?
A: Changing old behaviors is challenging, but it can be helpful to set realistic, concrete goals when it comes to diet and activity level.
Additional Resources
Family time, water color painting keep Dr. Marcella Donaruma active
Dr. James Suliburk enjoys morning exercise and Houston's food scene
Read more healthy habits from members of our community.
Learn how Baylor promotes a culture of healthy living and wellness.