Healthy Habits: Isabel Valdez stays relaxed with knitting and at-home yoga
Taking care of your health is a priority and nobody knows that more than physicians and healthcare providers.
It can sometimes be difficult to find ways to stay healthy, so we've asked members of our Baylor College of Medicine community to share what they do in their daily lives to maintain a healthy lifestyle.
Isabel Valdez, physician assistant and instructor of general internal medicine at Baylor, shares some of her healthy habits with us.
Q: What health decisions start your day?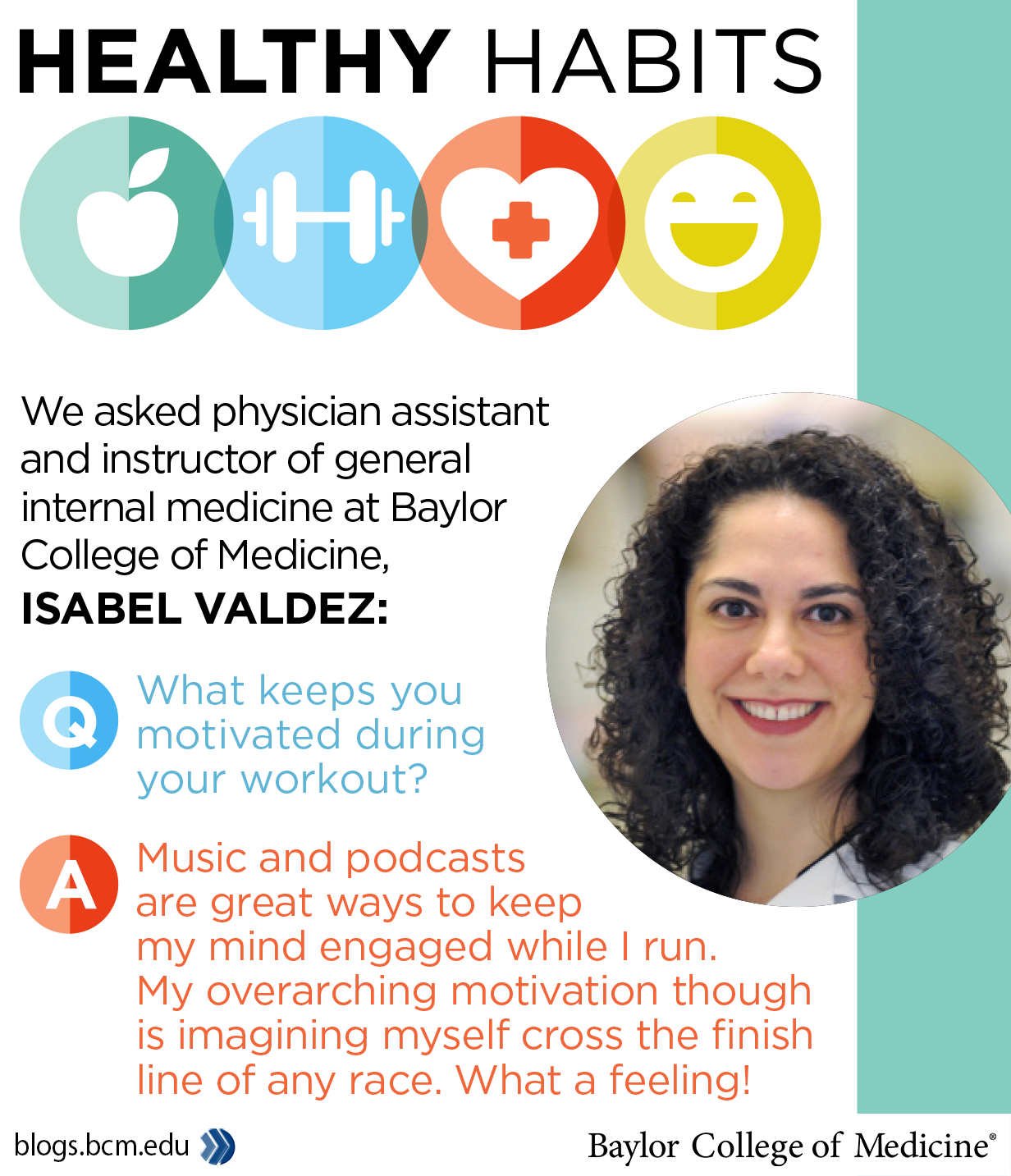 A: I get an early start to my day with a three or four mile jog in the morning before coming to clinic. It's an early start at 5 a.m. and worth the feeling of accomplishment. If I can't make it to the park, I'll do a yoga video from YouTube or hop on the elliptical.
Q: What is your go-to healthy breakfast?
A: I make my own yogurt. It's super easy and there are recipes on YouTube. I sweeten it with cinnamon and a little bit of Splenda. I mix oatmeal in it every night and leave it overnight in the fridge. Throw in some blueberries or raspberries and breakfast is ready!
Q: What is your favorite type of exercise?
A: I'm training for a half marathon so running has grown on me over the last couple of years. Before that, I used the elliptical religiously; I still use it when I need to rest from running.
Q: What keeps you motivated during your workout?
A: Music and podcasts are great ways to keep my mind engaged while I run. My overarching motivation though is imagining myself cross the finish line of any race. What a feeling!
Q: What activities do you do when you can't fit in a full workout?
A: Yoga is a great workout that I fit into my day when I need to rest from running. I tune into a yoga channel on YouTube and just follow their lead.
Q: What is your favorite healthful snack?
A: Hummus is my go-to snack and lunchtime favorite! I stick to the recommended serving size just to make sure it stays healthful.
Q: What do you include in your child's lunch?
A: I don't have kids but if I did, I would add a small pack of carrots – just like the ones I eat with my lunch.
Q: How do you make an unhealthy recipe healthy?
A: I rarely bake and when I do, I use applesauce instead of butter or oil.
Q: What is your nighttime skin regimen?
A: I wash my face twice a day with a gentle cleanser like Cetaphil and moisturize immediately after washing.
Q: What hobbies do you have to help you relax?
A: I learned to crochet a few years ago and taught myself to knit from YouTube videos. These handcrafts are helpful ways to occupy your mind with deliberate counting that can be used to manage your breathing.
Q: What is your go-to Houston restaurant for a healthy meal?
A: Local Foods on Westheimer and Kirby! Get a sampler of their veggie sides and you can make a meal out of it.
Q: Do you use a pedometer or Fitbit and what is your daily step goal?
A: I use a Garmin smartwatch to track my steps and other activity goals.
Q: What is your favorite health tip that you live by?
A: Say "Thank You" to everyone around you, including yourself. Thank yourself for making a healthy decision today that your older self will appreciate greatly.
Oh, and sleep! Studies show that sleeping less than five hours every night makes it easier to get ill, so aim for seven hours of some healthy ZZZs.
Additional Resources
Enjoying hobbies, limiting caffeine help Dr. Karen Lawson stay balanced
Dr. Chris Glover focuses on plyometrics and short sprints
See how Baylor stays fit with more healthy habits from members of our community.