Device that induces a mild localized 'fever' could treat vascular involvement in cancer
The prognosis of a cancer patient relies significantly on the ability of the surgeon to remove all the tumor, including a cancer-free boundary, leaving what surgeons call a tissue margin negative for cancer cells. But this is not always possible. Leaving tumor tissue behind reduces the patient's chance for recovery because the unremoved tumor may metastasize or spread to other organs and continue to grow.
One instance in which surgeons usually are not be able to completely remove the tumor happens when it grows around vital veins or arteries.
"We were looking at technologies that could help surgeons treat that cancer-positive margin," said Dr. Matthew Ware, instructor of surgery at Baylor College of Medicine and first author of this work. "Our group has a history of using noninvasive radiofrequency devices to study the effects of mild hyperthermia on cancer cells, and we found promising effects on tumors, which are not so much seen in healthy tissue."
Bringing the heat to cancer therapy
In laboratory cell cultures and animal models, the researchers discovered that mild hyperthermia in the range of 39 to 45 degrees Celsius (102 to 113 degrees Fahrenheit) is toxic to cancer cells; it lowers their proliferation rate, can increase their susceptibility to cancer drugs and promotes changes in the tumor microenvironment that favor tumor destruction. At the same time, this localized 'fever' seems to have limited negative effects on healthy tissue, such as reduced inflammation and necrosis that are seen in other surgical techniques.
"These results prompted the design of a tool that we named the CorleyWare device," said co-corresponding author Dr. Stuart Corr, director of surgical innovation and technology and assistant professor of surgery at Baylor College of Medicine. "The device would allow a surgeon to heat the tumor layer outside a blood vessel to promote cancer cell death, while allowing the blood inside the vessel to act like a heat sink that would keep the healthy tissue inside relatively cool."
The researchers worked with an animal model of human pancreatic ductal adenocarcinoma, a type of cancer in which the tumor tends to grow around the superior mesenteric artery, a major artery that supplies blood to the abdomen, limiting the ability of the surgeon to remove all the tumor.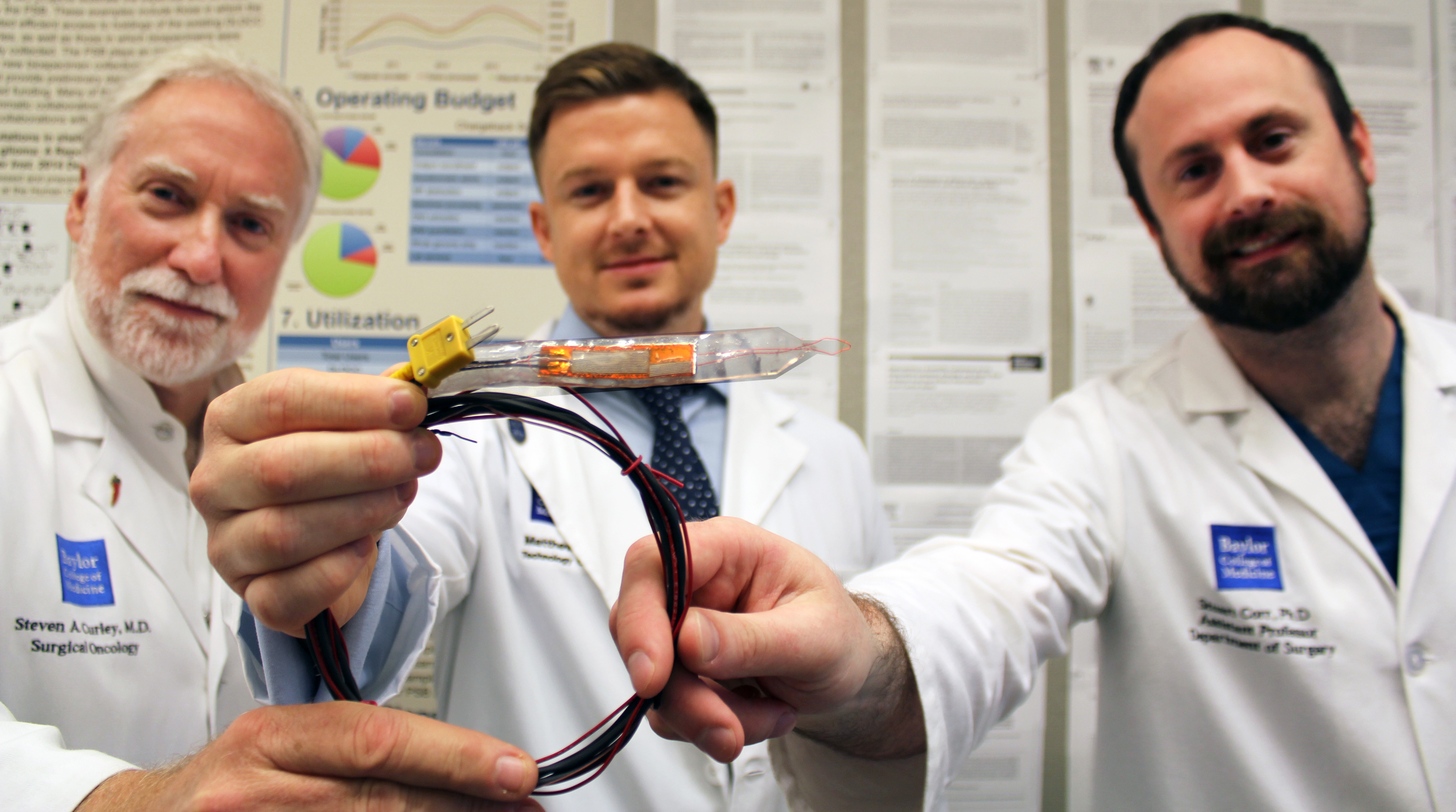 "The CorleyWare device can potentially offer surgeons an opportunity to do something more for patients who currently might not be eligible for surgery because part of the tumor is growing around a major blood vessel," Corr said.
"Nowadays, a surgeon removing a tumor around the superior mesenteric usually leaves a 1 to 3 millimeter positive margin. The CorleyWare device offers the possibility in the future to treat this unresectable margin by wrapping this device around the remaining tumor, applying localized heat for 10 minutes, taking the device off, completing the surgical procedure, and further treating the patient with chemotherapy, for example."
This study shows the results with pancreatic ductal adenocarcinoma, but, according to the researchers, there are other types of cancer that also involve other major blood vessels, such as the carotid artery in the neck, in which this tool also could be applied to treat cancer.
"Our next step is to proceed with evaluation of this technology, make changes if necessary and ideally conduct a clinical trial in the future," Ware said.
"Our Surgical Innovations lab at the Baylor College of Medicine is focused on addressing real clinical problems encountered by surgeons," said co-corresponding author Dr. Steven Curley, professor and Olga Keith Wiess Chair of surgery at Baylor College of Medicine and associate director for clinical affairs at the Dan L Duncan Comprehensive Cancer Center.

The CorleyWare tool is one of the medical devices developed at the Department of Surgery Incubator (DoSI), which offers its unique resources for prototype development and networking.
Read all the details of this work in the journal Scientific Reports.
###
Other contributors to this work include Lam P. Nguyen, Justin J. Law, Martyna Krzykawska-Serda, Kimberly M. Taylor, Hop S. Tran Cao, Andrew O. Anderson, Merlyn Pulikkathara, Jared M. Newton, Jason C. Ho, Rosa Hwang, Kimal Rajapakshe, Cristian Coarfa, Shixia Huang and Dean Edwards.
This work was supported by the Kanzius Cancer Research Foundation, the Cancer Prevention and Research Institute of Texas Proteomics and Metabolomics Core Facility Support Award (RP120092) and National Cancer Institute Cancer Center Support Grant to Antibody-based Proteomics Core/Shared Resource (P30CA125123). Further financial support was provided by the National Institute of General Medical Sciences (award number 2T32GM088129) and Baylor College of Medicine Oncology Scholars (T32CA174647).