Healthy Habits: Early workouts, weightlifting help keep Dr. S. Rob Todd fit
Taking care of your health is a priority and nobody knows that more than physicians and healthcare providers.
It can sometimes be difficult to find ways to stay healthy, so we've asked members of our Baylor College of Medicine community to share what they do in their daily lives to maintain a healthy lifestyle.
Dr. S. Rob Todd, professor and chief of acute care surgery at Baylor, shares some of his healthy habits with us.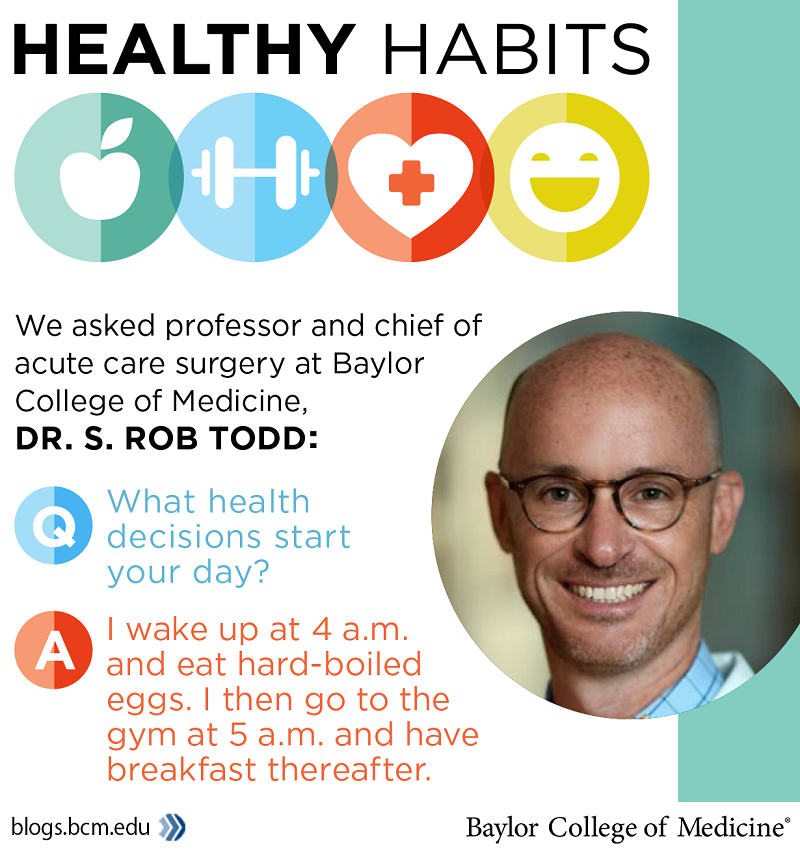 Q: What health decisions start your day?
A: I wake up at 4 a.m. and eat hard-boiled eggs. I then go to the gym at 5 a.m. and have breakfast thereafter.
Q: What is your go-to healthy breakfast?
A: Scrambled eggs and oatmeal.
Q: What is your favorite type of exercise?
A: Weightlifting in general. I mostly focus on legs and shoulders.
Q: What keeps you motivated during your workout?
A: My trainer or a good set list if I am by myself.
Q: What activities do you do when you can't fit in a full workout?
A: That's a tough one. I typically fit in as much as possible and go with it.
Q: What is your favorite healthful snack?
A: A handful of almonds or pistachios.
Q: Do you take vitamins and if so, which ones?
A: Alpha Base by Ortho Molecular Products.
Q: How do you make an unhealthy recipe healthy (healthy substitutions)?
A: By substituting ingredients as need be, i.e. healthy fats for unhealthy fats.
Q: What is your nighttime skin regimen?
A: I use Baxter of California skin care products.
Q: What hobbies do you have to help you relax?
A: Exercise in general – either weightlifting or cardio.
Q: What is your go-to Houston restaurant for a healthy meal?
A: True Food Kitchen.
Q: What is your favorite health tip that you live by?
A: "Get what you give!"
Additional Resources
Dr. Lisa Bomgaars takes spin classes, uses art to relax
Fitness classes, workout videos help Dr. Stephanie Morain stay active
See how Baylor stays fit with more healthy habits from members of our community
See how Baylor promotes a culture of healthy living and wellness