Healthy Habits: Cycling, frequent walks help Dr. Kenneth McClain stay active
Taking care of your health is a priority and nobody knows that more than physicians and healthcare providers.
It can sometimes be difficult to find ways to stay healthy, so we've asked members of our Baylor College of Medicine community to share what they do in their daily lives to maintain a healthy lifestyle.
Dr. Kenneth McClain, professor of pediatrics-oncology at Baylor, shares some of his healthy habits with us.
Q: What health decisions start your day?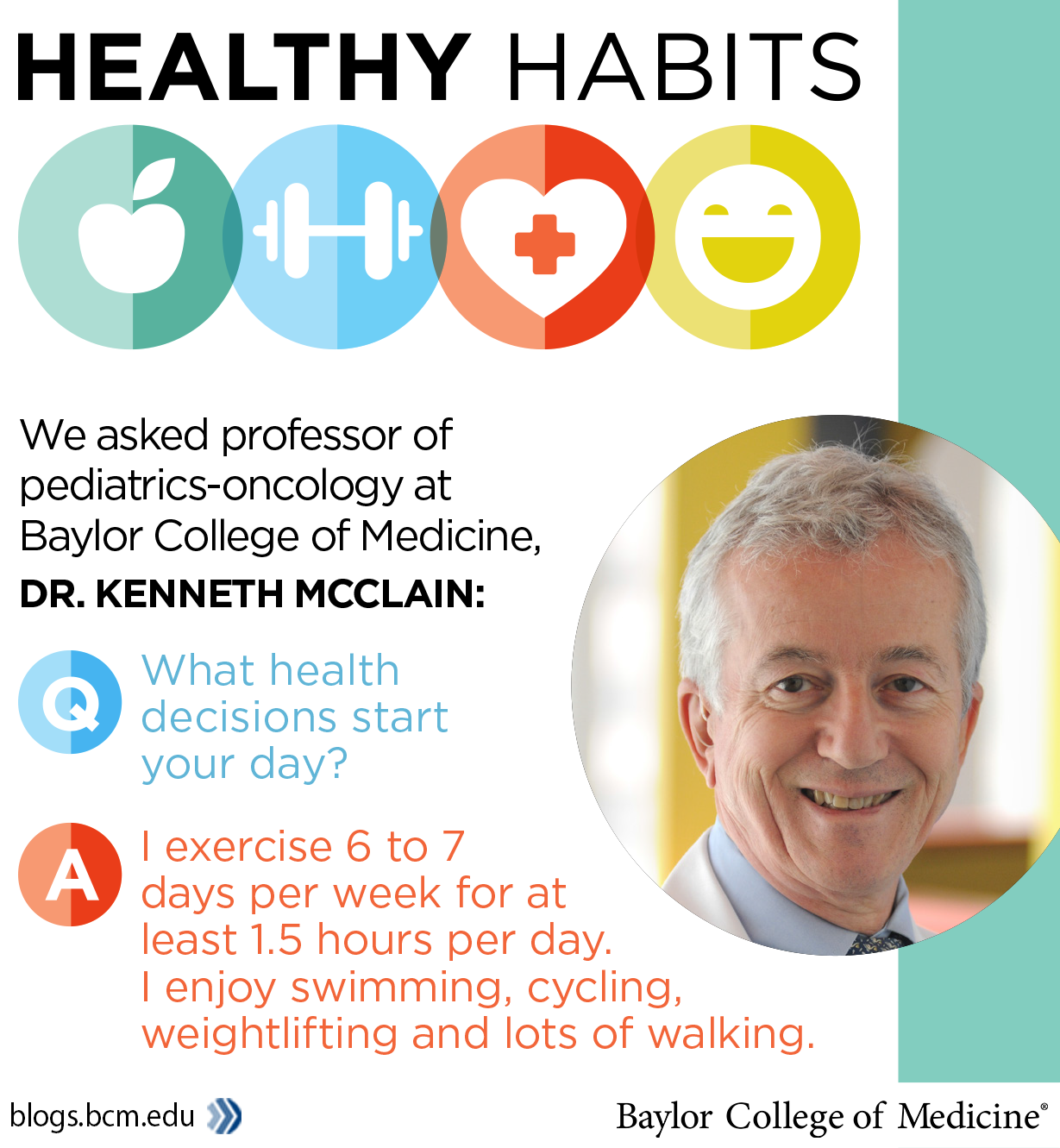 A: I exercise 6 to 7 days per week for at least 1.5 hours per day. I enjoy swimming, cycling, weightlifting and lots of walking.
Q: What is your go-to healthy breakfast?
A: Dry oatmeal with currants and cranberries with lactose/fat-free milk.
Q: What is your favorite type of exercise?
A: Cycling.
Q: What keeps you motivated during your workout?
A: It's fun and I plan to live to be 100.
Q: What activities do you do when you can't fit in a full workout?
A: Stretching or calisthenics.
Q: What is your favorite healthful snack?
A: Fruit – apples and tangerines being my favorites.
Q: Do you take vitamins and if so, which ones?
A: Centrum Silver, B12, D3.
Q: How do you make an unhealthy recipe healthy (healthy substitutions)?
A: I use olive oil to replace fats.
Q: What hobbies do you have to help you relax?
A: The exercises listed above and playing the trumpet.
Q: What is your go-to Houston restaurant for a healthy meal?
A: Cultivare.
Q: Do you use a pedometer or Fitbit and what is your daily step goal?
A: I don't have one, but according to my iPhone I get 6000 to 10,000 steps a day.
Q: What is your favorite health tip that you live by?
A: Stay fit and be consistent.
Additional Resources
Kristin Wade enjoys neighborhood walks, high-protein breakfasts
Early workouts, weightlifting help keep Dr. S. Rob Todd fit
See how Baylor stays fit with more healthy habits from members of our community
See how Baylor promotes a culture of healthy living and wellness