Baylor global healthcare initiatives span community service, education
From hackathons to pediatric AIDS treatment, Baylor College of Medicine's commitment to innovative healthcare solutions extends well beyond U.S. borders.
With outreach programs and initiatives in more than 60 countries, Baylor brings critical medical services to the most underserved communities across the globe.
When the Ebola epidemic recently affected West Africa, Dr. Sharmila Anandasabapathy, director of Baylor Global Initiatives (BGI), and her colleagues developed the Emergency Smart Pod to help address the crisis. The Smart Pod is a portable four-bed treatment unit that can be quickly built and deployed in emergency response situations.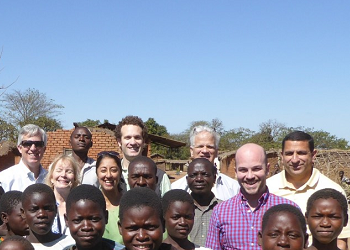 In 1996, Dr. Mark Kline, now chair of pediatrics at Baylor and physician-in-chief at Texas Children's Hospital, and several colleagues saw a need to address the spread of HIV/AIDS in Romania and launched the Baylor International Pediatric AIDS Initiative (BIPAI) at Texas Children's Hospital. For 20 years, the initiative has expanded its outreach efforts to 12 countries. Today, BIPAI operates a network of clinical centers that treats more than 168,000 HIV-infected children – more than any other organization worldwide.
Global healthcare isn't only the responsibility of physicians. A diverse set of skills is needed to spur thoughtful, creative solutions for global health crises.
Established by the Baylor Global Innovation Center and hosted by BGI in September 2015, the first Baylor Global Health Hackathon aimed to do just that.
Educational programs such as the diploma in tropical medicine, the global health track, and the Pediatric Emergency Medicine Global Health Fellowship also help inspire the next generation of physicians who will make a global impact on healthcare.
Read more about Baylor's global outreach.
Additional Resources
Battling pediatric AIDS: Restoring hope, health to communities
Global Health Hackathon combines invention with innovation
Initiative to continue treating sickle cell in Angola
Baylor College of Medicine has joined the Houston Chronicle in celebrating Houston's history in a six-month retrospective project. This story is part of an ongoing feature that can be found on our website. Now through October, we'll be highlighting our initiatives, events and history with the community.