Healthy Habits: Core workouts, staying positive key for Dr. Temi Osinaiya
Taking care of your health is a priority and nobody knows that more than physicians and healthcare providers.
It can sometimes be difficult to find ways to stay healthy, so we've asked members of our Baylor College of Medicine community to share what they do in their daily lives to maintain a healthy lifestyle.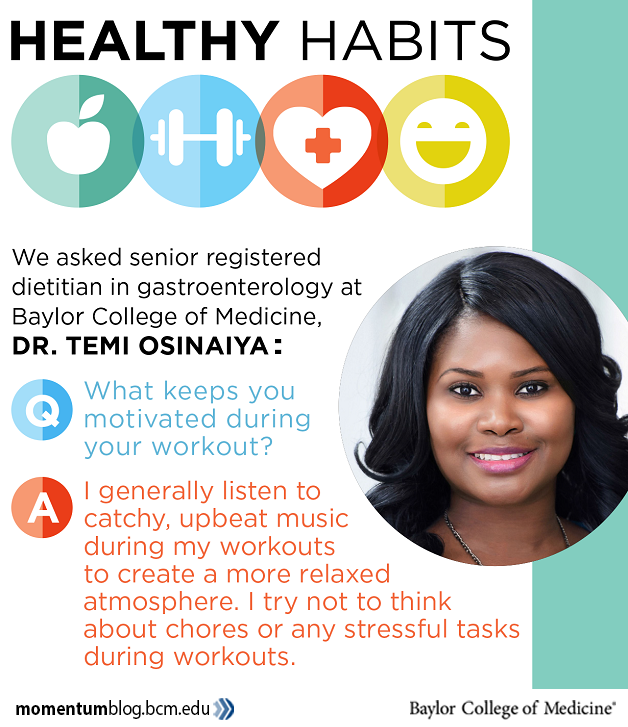 Dr. Temi Osinaiya, senior registered dietitian in gastroenterology at Baylor, shares some of her healthy habits with us.
Q: What is your go-to healthy breakfast?
A: Kashi GOLEAN crunch cereal, almond milk, a banana and yogurt.
Q: What is your favorite type of exercise?
A: I enjoy core workouts such as oblique reach, bicycle and reverse crunches. For gym equipment I prefer the leg press, elliptical and cardio row machine. I also enjoy taking brisk walks.
Q: What keeps you motivated during your workout?
A: I generally listen to catchy, upbeat music during my workouts to create a more relaxed atmosphere. I try not to think about chores or any stressful tasks during workouts.
Q: What activities do you do when you can't fit in a full workout?
A: I may park my car a little bit further away to allow extra time for walking. I also run up and down the stairs. Sometimes I squeeze in a quick 10 minute intense workout.
Q: What is your favorite healthful snack?
A: Low fat yogurt topped with granola for a crunch, grapes, bananas, baby carrots, celery or apple slices with peanut butter.
Q: Do you take vitamins and if so, which ones?
A: I take a women's multivitamin and vitamin D.
Q: How do you make an unhealthy recipe healthy (healthy substitutions)?
A: I replace bread crumbs with rolled oats, use evaporated skim milk instead of cream and substitute two egg whites for each whole egg.
Q: What is your nighttime skin regimen?
A: Cetaphil or Aveeno Gentle Face Cleanser, an alcohol free toner, and facial moisturizer.
Q: What hobbies do you have to help you relax?
A: Attending events with family or friends (house gatherings, plays etc.), walking, listening to music, and getting a manicure/pedicure.
Q: What is your go-to Houston restaurant for a healthy meal?
A: Nothing beats a home-cooked meal for a healthy meal – but if that isn't an option, Ruggles Green has some nice selections for a great price!
Q: What is your favorite health tip that you live by?
A: Get adequate rest, eat healthy, set time aside for fun/relaxing activities with loved ones, think positively, build faith, worry less and be happy!
Additional Resources
Dr. Dorit Donoviel enjoys fruit salad, podcasts and plenty of rest
Yoga, family time help keep Dr. Angela Catic motivated
See how Baylor stays fit with more healthy habits from members of our community
See how Baylor promotes a culture of healthy living and wellness