A commitment to honor and medicine
From our first affiliated hospital, to an accelerated wartime medical program, Baylor College of Medicine has supported the military for members both active and retired.
Renowned Baylor president and surgeon Dr. Michael E. DeBakey was instrumental in forging the World War II-era relationship that would lead to a robust center of care and research at Houston's Veterans Affairs Medical Center, the first VA hospital in the country to partner with a medical school.
Chancellor Emeritus Dr. William Butler explains:
"The VA was critical to the development of (Baylor's) research and educational programs. It gave students an opportunity to broaden their experiences. It also allowed us to develop a truly affiliated hospital where we were responsible for hiring the doctors at the hospital to ensure the quality of patient care in the context of an educational program."
The healthcare and learning environment established by DeBakey is thriving today. Dr. Daniel Musher believes the Michael E. DeBakey Veterans Affairs Medical Center offers an environment that promotes learning, teaching and exemplary patient care.
Musher, who joined Baylor College of Medicine in 1971 as an infectious disease specialist, was intrigued by the concept of fully integrating the veterans' hospital into the teaching system at Baylor.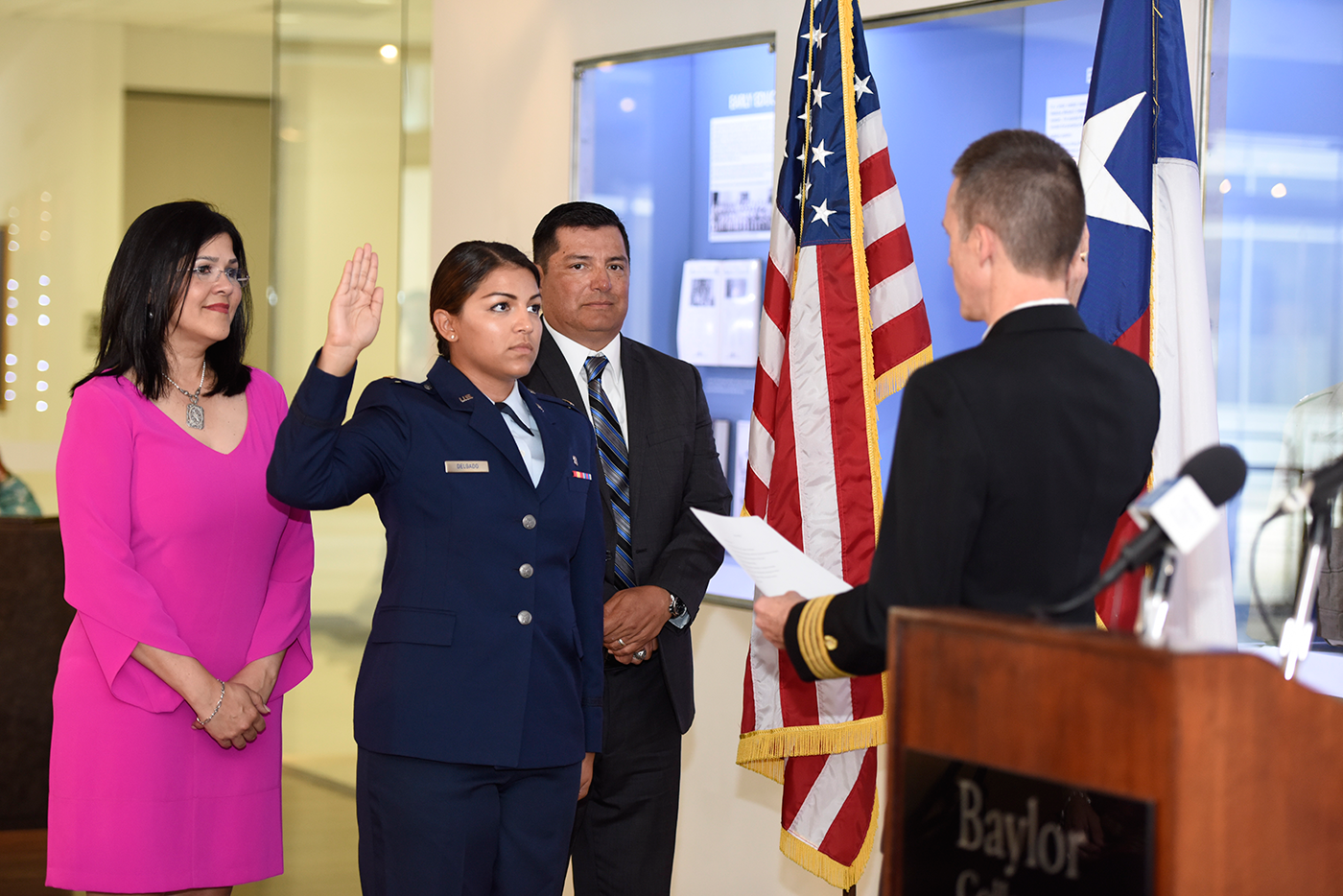 "The VA in Houston was a spectacular place that offered me the opportunity to see patients, teach and conduct research," Musher said. "Residents take care of patients while receiving just the right amount of supervision from attending physicians. Our patients are generally cooperative and interested in their care and, importantly, we involve the patient in the discussion of their care, and this adds to the learning opportunities."
Baylor students help continue our legacy of supporting the military. In May, fourth-year medical students Amanda Delgado and Bryant Nieto were commissioned into the Air Force and Navy. The officers will fulfill their residency requirement on a military base.
Like other residents they will continue their medical training, but will be serving a different population, said Dr. Timothy Porea, clinical director of the Texas Children's Cancer and Hematology Centers, faculty advisor for Baylor's Military Medical Students Association and retired Navy physician.
"The need to learn to practice in austere settings without much backup, and their dual roles as both military officer and physician," will also set their training apart form their peers, Porea said.
See video from the 2016 military commissioning below.
Additional Resources
Read more about Dr. Musher and the VA Medical Center
Baylor and the VA Medical Center: 67 years of history and service
Baylor College of Medicine has joined the Houston Chronicle in celebrating Houston's history in a six-month retrospective project. This story is part of an ongoing feature that can be found on our website. Now through October, we'll be highlighting our shared history, events, outreach and more with the community.