CPR program helps save lives outside hospital walls
Since 2013, students at Baylor College of Medicine have organized free one-hour CPR training sessions and have been growing the program since its creation.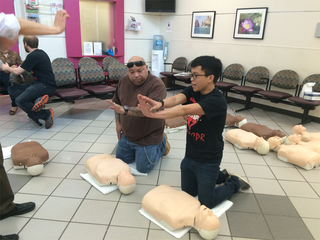 "The idea is to go out into the community and teach people how to react in an emergency situation," said Jake Valentine, third-year medical student and director of operations of Baylor's MassCPR program. "For a lot of people, their biggest nightmare is to be around someone who collapses and not know what to do."
The program, which has expanded to include over 4,000 members across Texas, is focused on teaching two fundamental steps: Starting compressions and calling 911.
"When we go out and teach this, we want to make it a one-time thing that they can learn how to do," said Valentine. "More people in the community can learn to potentially save lives and gain the assurance of being prepared if they were to ever find themselves in a life threatening situation."
Additional Resources
Learn more about Baylor's MassCPR program.
Baylor College of Medicine has joined the Houston Chronicle in celebrating Houston's history in a six-month retrospective project. This story is part of an ongoing feature that can be found on our website. Now through October, we'll be highlighting our shared history with the community.