Healthy Habits: How Dr. Andrew Sikora maintains an active lifestyle
Taking care of your health is a priority and nobody knows that more than physicians and healthcare providers.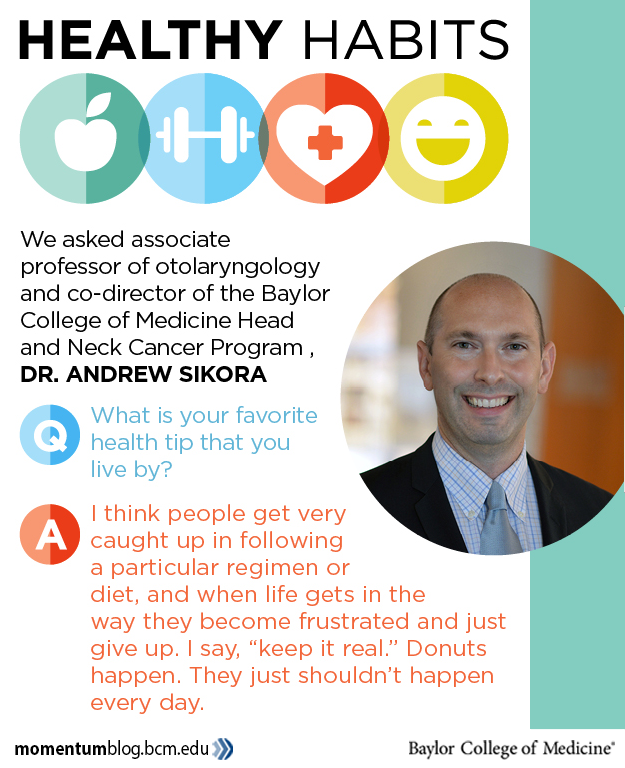 It can sometimes be difficult to find ways to stay healthy, so we've asked members of our Baylor College of Medicine community to share what they do in their daily lives to maintain a healthy lifestyle.
Dr. Andrew Sikora, associate professor of otolaryngology and co-director of the Baylor College of Medicine Head and Neck Cancer Program and a member of the Dan L Duncan Comprehensive Cancer Center, shares some of his healthy habits with us.
Q: What healthy decisions start your day?
A: I like to get up early and exercise first thing in the morning at least several times per week. Since my wife Sharmila also likes to do that, we take turns working out while the other is on duty for our daughter and the labradoodle.
Q: What is your go-to healthy breakfast?
A: Breakfast is a very special meal for me. Fortunately there are healthy as well as unhealthy foods I really enjoy. Plain Greek yogurt with fruit, honey and granola is one of them. Oatmeal with fruit and granola is another.
Q: What is your favorite type of exercise?
A: I really like to run, which unfortunately is pretty hard on your body. As time goes on I try to do more swimming and cycling, but nothing beats a good run.
Q: What keeps you motivated during your workout? (music, TV, phone call, etc.)
A: Some days I prefer to just hear my own thoughts, but most of the time I work with a pretty aggressive playlist. Fugazi's Repeater on endless loop is not a bad place to start.
Q: What activities do you do when you can't fit in a full workout?
A: Every day, for about the past 15 years, I get up and do an exercise routine that is midway between proper yoga and Soviet-era compulsory calisthenics. I can do this anywhere, and do. The free New York Times seven-minute workout app is also great for traveling, or if you ever wind up being put in solitary confinement.
Q: What is your favorite healthy snack?
A: I typically score some yogurt and granola at some point during the afternoon.
Q: Do you take vitamins and if so, which ones?
A: There is very little evidence that vitamins are good for you, but also little evidence they are bad for you. I hedge my bets by sneaking some of my daughter's gummy vitamins when no one is looking. My wife also tries to get me to take fish oil pills which are much less yummy.
Q: What do you include in your child's lunch?
A: We are not dogmatic about what goes in there, but Sharmila and I both want to see our daughter eat a variety of foods, at least some of which do not come wrapped in cellophane. She likes most kinds of fruit, so that's an easy win.
Q: What hobbies do you have to help you relax?
A: I never learned to properly play any instrument, but I enjoy composing short pieces on the piano. That is something I do several times a week, and could not really get through a week without it.
Q: What is your go-to Houston restaurant for a healthy meal?
A: We live near a Zoe's Kitchen and have found that Greek/Mediterranean food is a sort of DMZ for the whole family's eating preferences. There is something there for everyone and you really have to go out of your way to eat something unhealthy.
Q: Do you use a pedometer or Fitbit and what is your daily step goal?
A: I stopped using the Fitbit when I realized the accelerometer in my phone could tell when I was walking, running, biking, etc. But I still use the Fitbit app (synced to my phone) to keep in friendly competition with all the guys in my lab. In terms of the step goal, that is really up to my personal trainer, Casey, a one-year-old labradoodle. Casey is always ready for more steps!
Q: What is your favorite health tip that you live by?
A: I think people get very caught up in following a particular regimen or diet, and when life gets in the way they become frustrated and just give up. I say, "keep it real." Donuts happen. They just shouldn't happen every day.
Additional Resources
Dr. Peggy Smith balances fitness and relaxation
How Dr. Alexander Pastuszak finds time for daily exercise
See how Baylor stays fit with more healthy habits from members of our community
See how Baylor promotes a culture of healthy living and wellness