Hear Sarah Haley read her poem: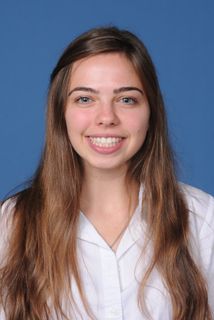 The gifts you gave me number two—
One: perspective, science, the beauty of our inside matter
But your best gift is the latter:
Profoundly, attached to your body is a "you"
To realize that these hands did hold,
Did reach for warmth and ache from cold.
To know this heart did long to beat,
These eyes did shy lovers' meet.
This brain did a whole life steer!
These knees sometimes gave in to fear,
Or sympathetics courage found
Strength for these legs to stand their ground.
These lean arms did dear ones embrace.
Those wrinkles did grow old with grace.
This mouth did share its laugh and life.
That face did dance with joy and strife.
Did those fingers instrument play?
And might those hips to music sway?
Did you love sand between your toes?
Ever get or give reddest rose?
Did that back children once carry?
Did your best friend you chance marry?
Did you feel at peace at the last?
Did you know time rushed all too fast?
To imagine what those eyes did see!
In anger flash or then dance and flee.
I pray these cheeks were often kissed,
And know by loved ones you are missed.
To see that these aren't these or those—
But your own hands, heart, eyes, mouth, toes,
Because they were part of your life,
Thank you for the gift of this insight.