Healing mind, body and spirit: Yoga at Smith Breast Center
Marti Ewing knows the healing power of yoga, and not just because she is a certified instructor.
Ewing began practicing yoga after sustaining several injuries.
"I had a knee issue, hip misalignment and fractured ankle; all as a result of an imbalance in my body," she said. "Yoga corrected several issues I was having within weeks of consistent practice. One issue leads to another and the key is to create balance while working at your optimum, which is different for everyone."
Now, Ewing is sharing yoga with cancer patients, as a way to help cope with physical, emotional and psychological challenges they face.
With support from Theresa's Research Foundation, the Smith Breast Center at Baylor College of Medicine is now offering free, weekly recuperative yoga classes.
What is recuperative yoga?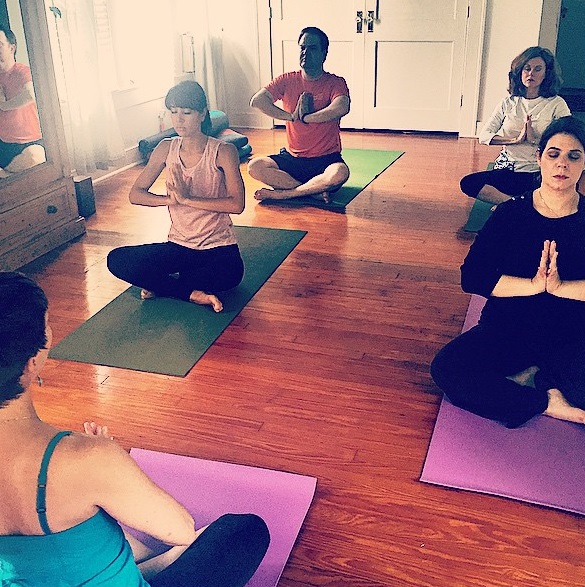 Recuperative yoga is specialized for those who are in recovery.
"Recuperative yoga is for modern-day life and is based on extension of the spine, breathing, posture, alignment and offers modifications so anyone can participate," said Ewing, who's been teaching for over a decade. Ewing, who specializes in recuperative yoga, offers a mix of meditation, strength building, and breathing techniques for all levels.
Walter Krause, a patient at Baylor Breast Care Center, has experienced improvements since attending recuperative yoga classes.
"In the beginning, I could barely get on the floor. Marti slowly worked me into being able to do more than I could before, and I feel in charge since I can get up and move around more. The class is wonderful," said Krause.
Health benefits of yoga
In addition to helping heal physical ailments, yoga can provide both mental and emotional stress relief. Ewing says yoga can:
Increase range of motion
Provide greater ability to relax through breathing
Improve your heart rate
Boost for the immune system
Improve cognitive functioning
Increase balance and strength
Provide connection with spirit
Encourage mindfulness through clarity and present-moment awareness
Offer a sense of empowerment
Ewing said before committing to a yoga class, speak with your doctor to address any health concerns.
Yoga at the Baylor Clinic
Open to all cancer survivors, patients and caregivers, classes are held every Thursday at 5:45 p.m. on the 11th floor at Baylor Clinic in room 11d.04. Questions or concerns about the class? Email Wendy Pineda. If you have specific questions about yoga techniques, contact Ewing at 713-876-1232.