Tylenol, Advil or Aleve: Which over-the-counter pain reliever should I take?
Not all over-the-counter pain relievers are created equally. When it comes to choosing an OTC pain reliever, Dr. Jeffrey Steinbauer, professor of Family and Community Medicine at Baylor College of Medicine, says you should read the label before reaching for the medication for relief.
"Over-the-counter medications are often thought to be 'safe'; but sometimes this isn't true.," said Steinbauer.
One of most common adverse medication events is overdose of acetaminophen, the active ingredient in Tylenol, he said.
"Acetaminophen was so 'safe and effective' that is made its way into many different medications for pain, colds, flu, sinus, cough, and other medications," Steinbauer said.  "As a result, patients can overdose on acetaminophen without realizing they are taking so much of it.  It's also dangerous because an overdose can cause liver failure."
Other over-the-counter pain relievers can be dangerous too, especially if they interact with prescribed medications.
"The classic example is taking aspirin or other non-steroidal anti-inflammatory drugs if you are taking blood thinners," he said. He noted some sedating OTC medications can also interact with prescriptions causing even more sedation.
Overall, if you have questions about the safety, dangers and interactions of over the counter medications, you can:
Ask your pharmacist
Ask your physician
Check on the reliable health websites for information on safety and interactions
Steinbauer says if you are in doubt don't risk taking something OTC that might make your illness worse or cause new problems.
Check out our cheat sheet for which pain reliever to use, and when.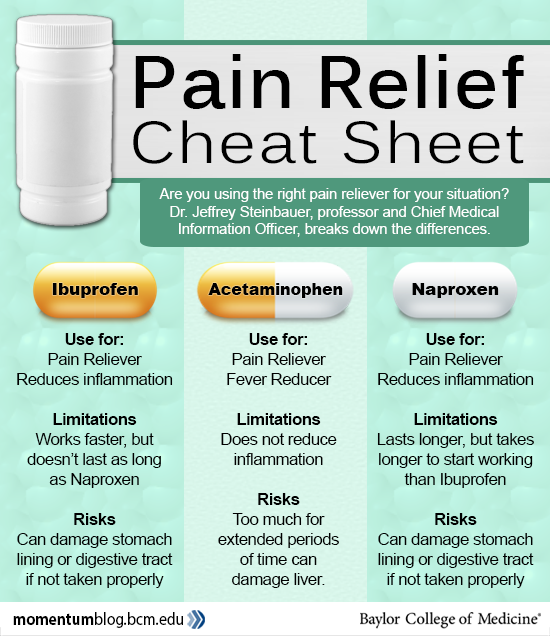 -By Audrey M. Marks and Andy Phifer