Four things to know about head and neck cancer: Are you at risk?
According to the 2015 American Cancer Society Facts and Figures, around 39,500 people will get head and neck cancers this year. Today, the International Federation of Head and Neck Oncology Societies focuses on head and neck cancer awareness and prevention through World Head and Neck Cancer Day on July 27.
Dr. Nadia Mohyuddin, assistant professor in the Department of Otolaryngology-Head and Neck Surgery and surgical oncologist in the Dan L. Duncan Cancer Center at Baylor College of Medicine, shares four things you should know about head and neck cancers.
What are the risk factors for developing head and neck cancers?
Environmental risk factors like tobacco and alcohol consumption have traditionally been the main cause of these cancers. While most head and neck cancer has decreased in the United States, throat cancers have sharply increased due to infections of the human papilloma virus (HPV). Lifestyle modifications and limiting alcohol and tobacco consumption can help limit the development of head and neck cancer.
Who is more likely to develop head and neck cancers?
According to a state-by-state analysis of cancer rates by the North American Association of Central Cancer Registries, there is a substantially greater risk for development of throat cancer for white men compared to any other demographic group in Texas and voice box cancer is disproportionally higher in black men compared to any other demographic group in the Lone Star State.
See a breakdown of throat and larynx cancer rates in Texas below.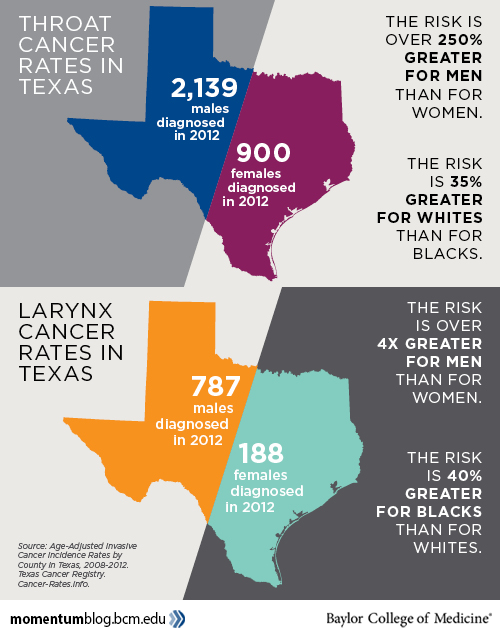 What are the symptoms of head and neck cancer?
Symptoms include: throat discomfort or pain, difficulty swallowing, speaking, or breathing, and feeling a lump in the neck.
What are the treatments for head and neck cancer?
When detected early (stage I/II), patients can have favorable outcomes and high cure rates with single treatments such as surgery or radiation therapy only. For advanced stage tumors (III/IV), combined therapy is often necessary including surgery, chemotherapy, and radiation treatment together, however outcomes are less favorable and patients often consider participation in clinical trials.
Additional Resources
Preventing head and neck cancers with the HPV vaccine
Your immune system: The secret weapon against HPV-related cancers
Learn more about the Head and Neck Cancer Research Program in the Dan L. Duncan Cancer Center