In Case You Missed It: Brain research, gut microbes create alcohol and more
Welcome back to Momentum's weekly review blog post, a chance to read about news in health, science and research you may have missed over the past week.
Calling all neuroscientists, BRAIN Initiative plan unveiled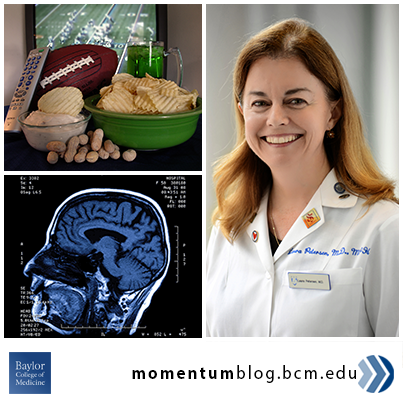 The details of the new $110 million research plan to help map the circuitry of the human brain was released Sept. 16 by the National Institutes of Health. The interim report identifies nine research areas considered high priority for FY 2014.
The science journal Nature notes that not all research areas are likely to receive equal funding when the 2014 budget year begins Oct. 1.
Gut microbes create a brewery?
NPR's blog The Salt this week reported on a Texas man who went to an emergency room complaining of dizziness. Nurses administered a Breathalyzer test to find the man's blood alcohol concentration was a .37 percent (nearly five times the legal driving limit in Texas.)
After conducting tests the Lubbock team of doctors discovered an overabundance of Saccharomyces, commonly known as brewer's yeast, in his gut was causing the man's intestinal tract to act like a brewery.
Read more about the infection.
Your team's record and your waist line
Loyalty and home town pride may play a part when you pick what sports teams to follow, but new research indicates it may pay off at your waistline to become a bandwagon fan.   The New York Times Well blog reported this week that a football game's outcome impacted what the fans ate the day after the game.
Pierre Chandon, a co-author of the study and a marketing professor at INSEAD, told the blog:
"If you're a fan, you say, 'We lost, I lost'…when people feel their identity is threatened, they compensate by eating indulgent food. It's more difficult to resist temptation. No one ate broccoli after a defeat."
Financial incentives, physicians and hypertension
Researchers at Baylor found that modest monetary incentives to individual physicians resulted in a significant increase in patients whose blood pressure was brought down. In the study, published in the Journal of American Medicine, researchers saw an 8.36 percent increase in patients who lowered their blood pressure or who received an appropriate medical response when it was found that their blood pressure was uncontrolled. The findings were reported in the Journal of the American Medical Association.
"This is not a panacea for everything that is wrong in health care, but it can have a significant effect in improving care," Dr. Laura Petersen, professor of medicine at Baylor College of Medicine and director of the Houston VA Health Services Research and Development Center of Excellence, who is also associate chief of staff for research at the Michael E. DeBakey VA Medical Center said in a press release. "Pay for performance is attractive because it would be a system-wide plan that could be implemented on a wide scale. With this, we have demonstrated that you can implement this kind of program at 12 sites at one time. And we were able to show a significant effect in the VA health care system where high blood pressure is already well controlled overall."
Watch Dr. Petersen explain the research in this JAMA video.