Healthy Habits: Dr. Kapur's positive attitude and hydration
Taking care of your health is a priority and nobody knows that more than physicians and healthcare providers. It can sometimes be difficult to find ways to stay healthy, so we've asked members of our Baylor College of Medicine community to share what they do in their daily lives to maintain a healthy lifestyle. Dr. Bobby Kapur is an associate professor of emergency medicine at Baylor.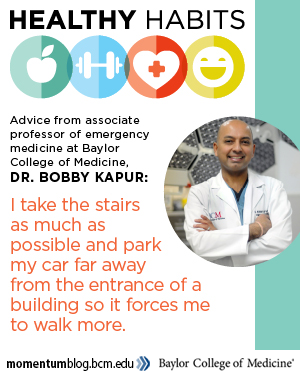 Q: What healthy decisions start your day?
The moment my alarm goes off and I open my eyes I tell myself "I'm going to have a great day today." I also begin the day with a large glass of water and try to stay well hydrated all day long.
Q: What is your go-to healthy breakfast?
I eat a banana every morning. I also have a cup of tea and either toast or oatmeal.
Q: What is your favorite type of exercise?
Walking my 100 pound dog! I also enjoy fencing and tennis.
Q: What activities do you do when you can't fit in a full workout?
I take the stairs as much as possible and park my car far away from the entrance of a building so it forces me to walk more.
Q: What is your favorite healthy snack?
Granola Bars
Q: Do you take vitamins and if so, which ones?
I take Solar Earth Source Multinutrient vitamins each day.
Q: What do you include in your child's lunch?
Yogurt
Q: What hobbies do you have to help you relax?
Yoga and meditation
Q: What is your go-to Houston restaurant for a healthy meal?
I'm a big fan of Thai food. You can always find dishes that are healthy and flavorful. I like Thai Bistro and Thai Gourmet.
Q: What is your favorite health tip that you live by?
Stay positive and happy!
Additional Resources
Want more healthy habits? Check out President, CEO and Executive Dean Dr. Paul Klotman's exercise routine
See how Baylor promotes a culture of healthy living and wellness