Healthy Habits: How Baylor stays fit
Taking care of your health is a priority and nobody knows that more than physicians and healthcare providers.
It can sometimes be difficult to find ways to stay healthy, so we've asked some of the members of the Baylor College of Medicine community what they do in their daily lives to maintain a healthy lifestyle.
First up is our President, CEO and Executive Dean Dr. Paul Klotman.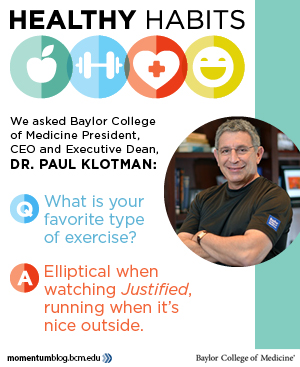 Q: What is your go-to breakfast?
A: Coffee, coffee, coffee… a little OJ
Q: What is your favorite type of exercise?
A: Elliptical when watching Justified, running when it's nice outside
Q: What keeps you motivated during your workout? (music, TV, phone call, etc.)
A: Binge TV series watching
Q: What activities do you do when you can't fit in a full workout?
A: Walk
Q: What is your favorite healthy snack?
A: They make those?
Q: What hobbies do you have to help you relax?
A: Have a glass of wine
Q: What is your go-to Houston restaurant for a healthy meal?
A: Nippon
Q: Do you use a pedometer or Fitbit and what is your daily step goal?
A: Yes and 10,000 steps
See how Baylor promotes a culture of healthy living and wellness.