A matter of health: New products needed for Ebola, neglected tropical diseases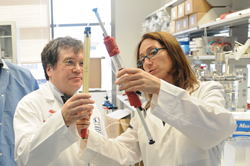 The devastating Ebola outbreak in West Africa is now expected to affect at least 20,000 people in the coming weeks, with some estimates suggesting that those numbers could climb several times higher.  Link those numbers with additional recent estimates that Ebola virus infection causes 70 percent mortality, and we are now facing a potential humanitarian catastrophe.  Sadly, this is not the first time we have seen such killer outbreaks from neglected tropical diseases (NTDs) in sub-Saharan Africa.  More than 100,000 people died from leishmaniasis and African trypanosomiasis during epidemics in Sudan and Democratic Republic of Congo, respectively, during the 1970s, 1980s, and 1990s.
Unfortunately many of these deaths could have been averted had vaccines been available.   Indeed, there are enough published scientific studies to indicate that it is feasible to develop vaccines to prevent NTDs such as Ebola and leishmaniasis.  The problem is not so much the technical hurdles to develop and produce such vaccines.  Instead, our technical knowledge has outpaced the social, economic and political institutions required for developing vaccines targeted for people living in extreme poverty.  Thus while the major pharmaceutical companies have been great at donating repurposed medicines for NTDs, they have not embarked on robust R&D programs to develop vaccines.  The reason is simple – NTDs affect almost exclusively the poorest of the poor and there are few if any financial incentives for big pharma to go into this area.
Two companies
For the West African Ebola outbreak, two major pharmaceutical companies – GlaxoSmithKline and Crucell – are now initiating vaccine development efforts, but it could still be months before these vaccines will be made available for this West African Ebola outbreak.  Such delays and the lack of incentives for accelerating the development of such  products – outside of the present extraordinary circumstance – are indications that we cannot rely on pharma alone to develop a pipeline of new NTD products.
Product development partnerships (PDPs) represent an attractive alternative for filling that development pipeline.  PDPs are non-profit institutions that use industry practices to make diagnostics, drugs, and vaccines for diseases that have low-profit margins such as HIV/AIDS, tuberculosis, malaria, and NTDs.  The Sabin Vaccine Institute and Texas Children's Hospital Center for Vaccine Development (Sabin-TCH-BCM) is a unique PDP based at the National School of Tropical Medicine at Baylor College of Medicine.  Although Sabin-TCH-BCM is not making an Ebola vaccine, it has a diverse  portfolio of vaccines under development to combat other NTDs, including hookworm disease, schistosomiasis, Chagas disease, leishmaniasis, SARS and West Nile virus infection.
Clinical trials
The human hookworm vaccine is in clinical trials in the United States and Brazil and through the vaccine consortium of European partners called HOOKVAC, it will soon enter clinical testing in sub-Saharan Africa.  Similarly a schistosomiasis vaccine is about to enter phase 1 trials (for safety) at BCM's Vaccine Trial and Evaluation Unit in Houston.  Our PDP is one of the few that is actually embedded in an academic health center such as BCM and TCH.  It therefore also represents a great opportunity for faculty, students and postdocs to learn the fundamentals about what is required to actually develop and test new vaccines from the bench into the clinic.   We look forward to keeping you updated on our vaccine development program!
-By Peter Hotez, M.D., Ph.D., and  Maria Elena Bottazzi Ph.D. Hotez and Bottazzi are leading product development partnership efforts at the Sabin Vaccine Institute and Texas Children's Hospital Center for Vaccine Development.  They are also Dean and Associate Dean, respectively of the National School of Tropical Medicine at Baylor College of Medicine. This story originally appeared in From the Labs.