Students promote wellness, healthy living with 5K race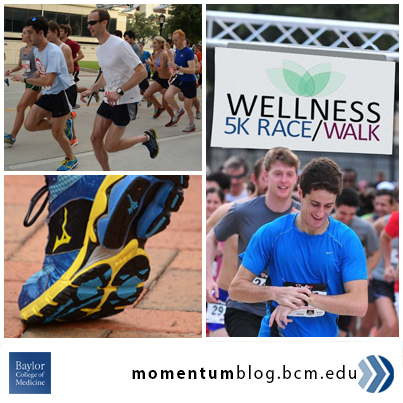 Looking for a way to enjoy the fabulous fall weather and get active? Join us for the third annual Baylor College of Medicine Wellness 5kRace/Walk and Kids' 1k Fun Run Saturday, Oct. 11.
The race, which has been organized by students since its inception, is an opportunity for students and members of the community to get out, exercise and support student wellness.
"We are always looking for ways to 'practice what we preach' when it comes to staying fit and exercising," said Lakshay Jain, an MS2 and co-director of the event.
This year the race has been officially certified by USA Track & Field, which officially checks for ultimate accuracy and can be counted for participants records and national standing rankings.
Co-director Kevin Shen, MS2, said the proceeds from the race help support the College's Student Wellness Program.
"The general mission of the program is to promote health and wellness within the Baylor community," he said, with program initiatives that include a weekly boot camp style workout, free yoga night for College students and several lunch lectures.
"The program is still very new and we're hoping it will continue to grow in the future along with the 5k," Shen said.
New for 2014
This year the race includes a discount on parking, an area to leave keys and wallets, as well as newer and greater raffle prizes.
Children ages 10 and under will be eligible to enter the Kids 1K Fun Run for free. Activities and volunteers will be available for children while their parents run in the 5K. Get details.
Additional Resources
Learn more about the BCM Wellness 5K.