In Case You Missed It: Risks of rice, Robohands, Houston Zoo collaboration, and more
Thanks for joining us for our weekly roundup, highlighting some news and announcements from this past week. Here are a few news stories we wanted to make sure you didn't miss.
Risks of arsenic in rice?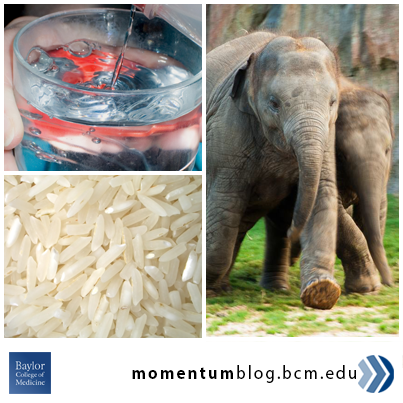 Is rice a staple grain in your diet? You can breathe a little easier now – the Food and Drug Administration said that arsenic levels in the samples of rice they tested wasn't high enough to post short-term risks. The FDA will continue to explore whether it may pose long-term risks.
Baylor College of Medicine pediatrics professor Dr. Steven Abrams said in an article on The Wall Street Journal that arsenic in rice is an "area of considerable concern."
Maybe consider switching it up and using some other kinds of grains. Recently, we featured a fun quiz on In Case You Missed It – refresh your memory and take the quiz.
Robohands
South African carpenter Richard Van As lost four fingers from his right hand in an incident two years ago with a circular saw. He decided to create his own hand, and collaborated to build the Robohand.
It looks straight out of a sci-fi movie, and allows people to grab objects. Read the full story about the effects of the Robohand in this Houston Chronicle article.
Learn about our new Master of Science in Orthotics and Prosthetics Program at Baylor College of Medicine.
Houston Zoo receives grant to tackle deadly elephant virus
The Houston Zoo is receiving nearly half a million dollars to fight endotheliotropic herpesvirus (EEHV), which has killed six elephants there over the last 25 years. The grant will be used to fund the zoo's research collaboration with Baylor College of Medicine and now also includes Johns Hopkins University and the National Elephant Herpesvirus Laboratory at the Smithsonian's National Zoological Park.
Read about EEHV and the research collaboration in this Houston Chronicle article.
Did you know we have an elephant named in honor of our research at the Houston Zoo?  Read Baylor the Elephant's story and see photos of him.
First Lady encourages Americans to drink more water
This week, First Lady Michelle Obama launched a campaign encouraging people to drink more water.
She said it's the "single best thing Americans could do to improve their health," and that it's something we often forget about, especially among all of the marketing we see every day that promotes other kinds of drinks that may not be healthy.
Learn about the new campaign on this AP Wire story.
Refresh your memory about "liquid calories" in our infographic.
-By Jordan Magaziner