'Swag worthy' doctor splits time between patients, rap music
On most days, Dr. Rayne Rouce starts and ends her shift looking after leukemia and lymphoma patients. But on some days, like when she leads a Saturday Morning Science program at Baylor College of Medicine, she ends her day "spitting some bars" as Rizzo, a youth-friendly rapper who performs original music meant to inspire and uplift.
"Music has always played a very special role in my life," Rouce said. "I've always joked to those around me that they are very fortunate that I don't have a great singing voice, because I would never shut up. I started writing raps and freestyling years and years ago. It started as something my cousins and I would do just for fun, but I realized over the last few years, that I find it extremely cathartic."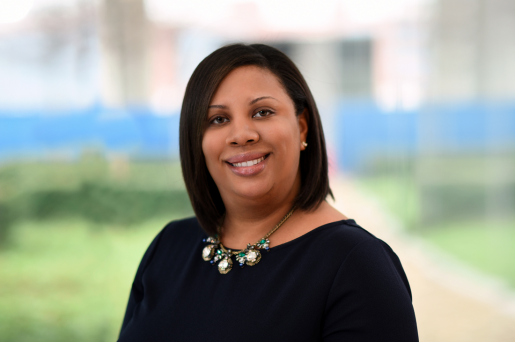 Rouce's music is meant to uplift and inspire. She's written about 200 original songs, ranging from educational tracks, raps about social justice issues and music highlighting "swag-worthy" scientific achievements.
"I talk about things that were important to me growing up, things that I overcame, and try to make being nerdy, cool."
She's even working on putting her music together into an album.
"I love to write, so I really got into writing educational raps for the kids who participate in programs I lead through the Saturday Morning Science program to teach science and medicine in a fun and memorable way," Rouce said.
Behind the mic – and the face mask
Rouce is an assistant professor, pediatric oncologist and physician scientist with the Department of Pediatrics, Section of Pediatric Hematology/Oncology and the Center for Cell and Gene Therapy at Baylor, and she leads clinical trials searching for ways to harness the body's immune system to treat cancer.
"Because I split my time between taking care of patients in the clinic and hospital, clinical trials, and conducting clinical, translational, or laboratory research, my days can get a bit hectic," she said. "As a cancer doctor, my patients always come first, so it isn't unusual for the course of my day to change frequently if a clinical issue I need to address arises."
Wearing a lot of hats doesn't stop Rouce from serving her community while engaging her favorite hobby.
"I am extremely passionate about community outreach, education, and health disparities, and love to use my passion for rap to communicate with people in the community," she said. "My position within the Office of Institutional Diversity, Inclusion and Equity at Baylor also allows me to lead community outreach efforts to enhance STEM education and scientific awareness, so even in the virtual COVID world, I may do an evening seminar for a school, community center or nursing home."
Before you read on, take a few minutes to watch Dr. Rayne "Rizzo" Rouce perform at the 2020 American Society of Hematology annual meeting ASH-a-Palooza Trainee Day.
"There's nothing that gives me more joy than finding a word to rhyme with "hematology."
This performance wasn't just a "one and done" for Rouce. She's been performing at the American Society of Hematology's ASH-a-Palooza since 2018.
"The organizers invited me to give the opening talk at the event, which is geared toward trainees interested in careers in hematology," she said. "They made it very clear this was to be a fun event, and it was my job to get the audience excited. I thought, why not rap?"
Rouce brought her whole crew to the show – two pediatric hematologist/oncologist fellows acting as backup dancers, a pediatric critical care fellow dressed as the ASH mascot, and her cousin and manager. The performance was a hit, and she was invited back each year to put her original rap lyrics over the beats of popular songs.
Her 2020 performance, seen above, was special. Due to COVID-19, the conference was virtual, and the organizers wanted to do something big for those tuning in. They requested Rouce rap along with an original song, and they set up a video shoot and a recording studio to make it happen. Rouce asked the son of her Saturday Morning Science coordinator, a young artist and producer named CBAN$, to make the beats, and the rest was history.
"All of the beats I use for my original raps come from self-made, self-taught producers. I was so fortunate to have CBAN$ produce for me. I love providing young and talented folks with an outlet for their creativity."
-By Andy Phifer