Black excellence: Pursuing society's view of exceptionalism at the expense of our humanity
Editor's note: "Injustice anywhere is a threat to justice everywhere. We are caught in an inescapable network of mutuality, tied in a single garment of destiny. Whatever affects one directly, affects all indirectly." – Martin Luther King, Jr., "Letter from a Birmingham Jail" 
In 1963, after being arrested during a civil rights protest in one of the most segregated cities in the United States, Martin Luther King Jr. wrote "Letter from a Birmingham Jail," shedding light upon the disparities undergirding our institutions and calling for action. Dr. King was a visionary who devoted his life to combating injustice. In honor of Dr. King's legacy and in light events exposing the continued disenfranchisement of marginalized communities, we recognize that we must take a stand against injustice as current and future medical providers and scientists.  
In December 2020, Progress Notes, the student magazine of Baylor College of Medicine, launched an essay contest to allow reflections on diversity in medicine and the biomedical sciences. This student-led project is co-sponsored by the Office of Institutional Diversity, Inclusion, and Equity at Baylor.  
As we strive towards creating more equitable spaces, both within our institution and beyond, it is heartening to have passionate community members in our midst. We hope that readers of these essays will use them as an opportunity for introspection and allow these powerful voices to reverberate throughout their own lives. 
The following piece is a winning submission written by Jessica Watts, student in the Graduate School of Biomedical Sciences at Baylor.
"You have to be twice as good as them to get half of what they have."
If you're a fan of the show Scandal, you will likely recognize this as one of Rowan Pope's most stinging one-liners. I can guarantee every black child has heard this phrase at some point in their life. Our parents teach us that the rebuttal is black excellence, but what happens when that is not enough? Growing up in a small rural town, I always knew I wanted more. I told myself I would go to a big university with limitless opportunities. Ironically, I ended up at Prairie View A&M University, an HBCU (Historically Black College and University) right down the street from my childhood home. PVAMU was founded in 1876 during the reconstruction era to serve the black community and satisfy the separate but equal legal doctrine of the time.
Education is marketed as a great equalizer for those of lower socioeconomic status, but why is there such a lack of diversity in healthcare? I have seen the intellect of minorities firsthand, so why is diversity such a hard problem to fix? The problem is not with the capabilities of minorities, but the barriers that we face that influence our admission and retention in professional programs.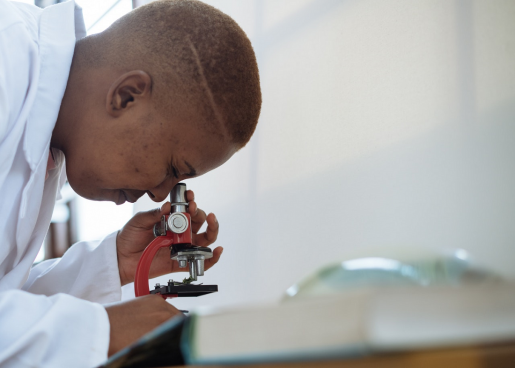 Before applying to graduate school a second time, I decided to spend two years in a postbaccalaureate program. I faced many stressful situations fueled by implicit bias and ignorance and was even told I did not have the qualities of a typical graduate student. I came into the program thinking I was there to learn how to be a student, but I found myself having to invest time and energy in teaching others how to be culturally competent – all while trying to thrive in an already mentally taxing environment.
If I did not have mentors who looked like me encouraging me to persevere, I would have given up my dreams of becoming an animal scientist. My thoughts of giving up were not fueled by a lack of motivation or the inability to succeed, but more so on my fears of me not being able to survive in an environment void of empathy for the experiences of a black woman in STEM.
Representation in healthcare is important because it gives us a sense of security and a reason to travail when faced with tough situations. It shows us that someone who looks like us and can empathize with our struggles obtained the degree or the dream job despite a faulty system.
There are certain aspects of education that validate inequalities in healthcare – including standardized testing requirements, biased application reviews, and sometimes even a disproportionate allocation of resources or opportunities.
Most minority students have to work twice as hard to make their applications desirable enough to enter competitive professional programs and when we gain admittance, we have to combat biases of us not being interested because we are not as outspoken as our peers or comparing us to a standard set of students who do not resemble us or our experiences. The black struggle has always coincided with black excellence – it is not by choice but out of necessity. Minority students are just as talented, innovative, and successful as others, but I fear we will always be fighting a losing battle with diversity initiatives.
I think society deludes itself into thinking that inclusion efforts are only about increasing the number of minority students admitted into programs to justify their false narrative of diversity. Institutions must juggle recruiting and retaining minority candidates while trying to disprove society's ignorant assumption about diversity efforts depending on a quota and not our own merits.
With the recent spotlight on racial injustice in healthcare, people are astonished at the ignorance we face every day, but these issues are the same issues that have plagued the United States for decades. So where do we go from here?
It is easy to say we should amplify minority voices and make room at the table. I think a better outlook is resetting the table. Resetting the table changes the narrative to ensure no one is disregarded in the first place. My favorite saying is when you know better, do better. Now that racial inequities have taken center stage, ignorance is no longer a viable excuse. How do you recognize the end of a bottomless silence? There are not any right answers. Only progression fueled by action.
Read more winning entries from the Progress Notes' Diversity Essay Contest
Bioethics in the COVID era: Physiatrists advocate for patients with disabilities