Reaching the 'unreachable': The final frontier in medicine
"Injustice anywhere is a threat to justice everywhere. We are caught in an inescapable network of mutuality, tied in a single garment of destiny. Whatever affects one directly, affects all indirectly." – Martin Luther King, Jr., "Letter from a Birmingham Jail"
In 1963, after being arrested during a civil rights protest in one of the most segregated cities in the United States, Martin Luther King Jr. wrote "Letter from a Birmingham Jail," shedding light upon the disparities undergirding our institutions and calling for action. Dr. King was a visionary who devoted his life to combating injustice. In honor of Dr. King's legacy and in light events exposing the continued disenfranchisement of marginalized communities, we recognize that we must take a stand against injustice as current and future medical providers and scientists.  
In December 2020, Progress Notes, the student magazine of Baylor College of Medicine, launched an essay contest to allow reflections on diversity in medicine and the biomedical sciences. This student-led project is co-sponsored by the Office of Institutional Diversity, Inclusion, and Equity at Baylor.  
As we strive towards creating more equitable spaces, both within our institution and beyond, it is heartening to have passionate community members in our midst. We hope that readers of these essays will use them as an opportunity for introspection and allow these powerful voices to reverberate throughout their own lives. 

The following piece is a winning submission written by Dr. Sarvari Yellapragada, associate professor of medicine-hematology and oncology at Baylor.
As a medical student training in one of the largest hospitals in Chennai, India, health inequity was part of daily life. We served the underserved in one of the most populous parts of the country. I did not think to question the crowded "general" wards and the contrasting luxurious "VIP" rooms, which felt more like a hotel suite. I believed, or naively wanted to believe, that despite the difference in the accommodations, the medical teams that served them were the same – we held ourselves to high standards, regardless of the financial background of the patient who sought our care.
The years rolled on – suddenly I was intern. It was a busy night in the OB-GYN rotation. While my post-graduate trainees attended to the Caesarian sections and twin deliveries, I was left to attend to the "simple" deliveries. The woman in labor I was caring for was in her early 20s. I knew a little about her – she was from a rural community and circumstances led her to drop out of middle school. She received little prenatal care. Unfortunately, this lady with few resources who lived below the poverty line gave birth to an infant with bilateral renal agenesis.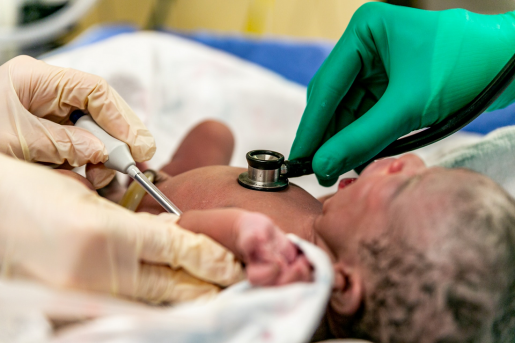 Within hours, the baby was abandoned – the mother had disappeared. "Potter's syndrome, this baby doesn't have a chance without parents who will care for her," said my post-graduate trainee. The baby died within hours in the neonatal ICU. Poverty and being a female child were already two strikes. Renal agenesis was a third. She died before she could be named.
This was to be the first of many patients to open my eyes to health inequities. The seven-year-old boy who died of Burkitt's lymphoma, the 15-year-old who was rendered paraplegic by a brain tumor, children in the cardiac wards who had developed Eisenmenger's syndrome from untreated rheumatic fever causing valvular heart disease, children in the polio wards because they hadn't been vaccinated – they all had one thing in common – poverty.
But this did not prevent them from always being cheerful, smiling, welcoming and grateful whenever I went to visit with them. They did not begrudge the cards they had been dealt. But for many of us caring for them were stark reminders that had their circumstances been different, in a different family, in a different land – maybe their outcomes could have been different. Why should there be such inequity – especially for such a thing as cancer care?
Maybe choosing a career in hematology and oncology here in the United States was my way of turning those wrongs into rights. Working in a new healthcare system far away from the disparities I witnessed was my way of escaping what I felt powerless to fix.
But health inequities exist here, too. Be it the rural veteran with many more challenges seeking cancer care in a city far away, or an African American who is much more susceptible to multiple myeloma yet is underrepresented in clinical trials, or a patient with HIV with a curable disease like Hodgkin lymphoma not armed with enough information on immunotherapy – they are all victims of health inequity, too.
Except that this time, I was part of the system. It was time to stand up, speak out, do my own little part in at least acknowledging the inequity and then working to address it.
That is why a full-fledged telemedicine program for hematology and oncology care was born in our section at the Michael E. DeBakey VA Medical Center as early as 2014 – to fight for access to care for rural veterans. A collaborative effort between the Boston VA and the Houston VA was established using data science to address the questions that couldn't otherwise be answered due to underrepresentation of African Americans in myeloma clinical trials.
Technology was able to overcome some of these inequities, giving us hope. But what should give us greater hope is the social momentum and passion for addressing these inequities, the courage of the patients and practitioners who speak out against them and the fortitude of the teams who are dedicated to set things right.
Maybe one day a newborn with renal agenesis of any race, sex, creed, religion, or land will have the same chance of survival and live to have a name, a smile and a childhood.
Read more winning entries from the Progress Notes' Diversity Essay Contest
Black excellence: Pursuing society's view of exceptionalism at the expense of our humanity
Bioethics in the COVID era: Physiatrists advocate for patients with disabilities