Holiday eating guide: Tips for a healthy season
It's that time of year again, and what a year 2020 has been. Many of us are often surrounded by food, so it can be tempting to overindulge.
Check out these tips to enjoy the holiday season and all that goes along with it, while making healthy and wise decisions.
Try healthier baking options.
Bake with applesauce or yogurt instead of butter and oil (it's a 1:1 exchange). Use unsweetened applesauce and plain yogurt. If you use sweetened or flavored, it may contain enough sugar to alter the texture of baked goods. Applesauce works great with foods that are already moist and dense — including cookies, muffins, banana/zucchini bread, and pumpkin spice cake.
Make mindful choices.
Take the skin off turkey and trim visible fat around the meat. Watch how much alcohol you are drinking — go with one alcoholic beverage and then a glass of water. This will help reduce overall calories and keep you well hydrated.
Don't skip meals.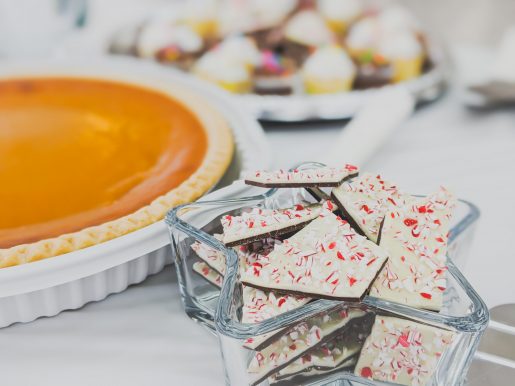 Skipping breakfast and lunch to "save all your calories" for dinner typically leads to overeating. Enjoy healthy snacks such as apple slices and string cheese or a serving of nuts of your choice.
Include vegetables.
Consider bringing a dish of non-starchy vegetables. These are great to include for the appetizer. Eat them first so you are getting in the quality nutrition and fiber that vegetables provide.
Savor every bite.
When extremely hungry, most people will eat fast and not even enjoy what they are eating. It takes at least 20 minutes for the brain to get the signal from your stomach that you are full.  Eating slow will help you taste and savor each bite of food and then stop when you are feeling full.
Eat the foods you really enjoy!
Skip the "I can take it or leave it" foods and focus on those you really love. You don't need to eat something just because it is there. If you don't care for eggnog or sweet potato casserole, just say "no thank you."
It's OK to eat the dessert.
Pick those that are served on special occasions. You may always be able to find a chocolate chip cookie, but that special holiday dessert may only be served once a year.
Go for a walk after you eat your meal.
This will help prevent falling into the dreaded "food coma." Studies show that taking a walk for 15-20 minutes after you eat can help ease digestion.
If you "fall off the horse" one day, just get back on the next.
Remember that it's only one day.
Most of all, make sure to enjoy the season safely and connect virtually with friends and family.
Additional Resources
How to serve food safely this holiday season
Celebrate the holiday season with these recipes
-By Rachel Griehs, senior registered dietitian with the Weight Loss and Metabolic Center at Baylor College of Medicine