Healthy Habits: Fitness apps, walking meetings keep Dr. Jan Lindsay moving
It can sometimes be difficult to find ways to stay healthy, so we've asked members of our Baylor College of Medicine community to share what they do in their daily lives to maintain a healthy lifestyle.
Dr. Jan Lindsay, associate professor of psychiatry and behavioral sciences at Baylor and licensed psychologist and health services researcher at the Michael E. DeBakey Veterans Affairs Medical Center, shares some of her healthy habits with us.
Q: What is your go-to healthy breakfast?
A: My husband is the cook in our house, but I have a couple of easy go-to breakfasts, like overnight oats with berries, scrambled eggs and sautéed spinach or arugula, and a smoothie (handful of kale, banana, orange juice, frozen mixed berries, almond milk).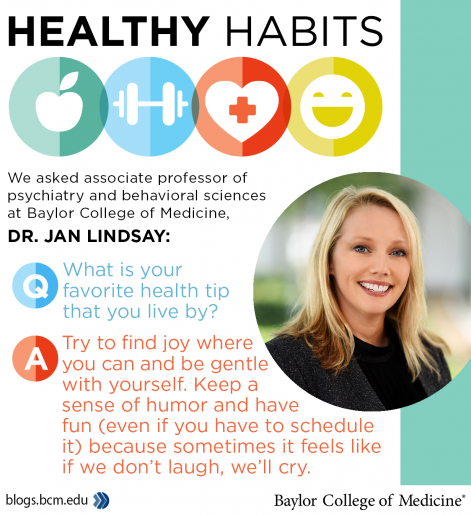 Q: What is your favorite type of exercise?
A: Before the pandemic, I would head to a spin class after work a few times a week and do a hot yoga class on the weekend. When I realized we were in this for the long haul, I bought a Peloton bike and I've loved it. I use the Peloton app so I can also do strength training and cardio classes. It's helpful to know there are others in the class with me—it keeps me motivated and accountable!
Q: What keeps you motivated during your workout?
A: A fun virtual instructor can be inspiring and, of course, a great Spotify playlist.
Q: What activities do you do when you can't fit in a full workout?
A: I really miss sharing space with my colleagues and our walking meetings, so now my research team does individual "walk and talk" meetings when we put in our AirPods and walk outside together virtually. I also have a standing desk which helps keep me a little more active than sitting all day.
Q: What have you been doing to stay healthy during COVID-19?
A: I've become obsessed with trying out the latest fitness apps. I wake up with a reminder to be mindful and meditate with Headspace, which I do about 20% of the time. My Apple Watch sends me a motivational message to move and drink water. Many days, I just move to the kitchen to make coffee but I'm doing better. I've also tried out several of the VA-developed apps, which are free to the public. The guided meditations on VA's Covid Coach app are a helpful way to stay centered.
Q: Do you take vitamins and if so, which ones?
A: Is resveratrol in red wine considered a vitamin? Antioxidants in dark chocolate? I also take random gummy vitamins because they taste good. Sounds like this is an area of growth for me.
Q: What do you include in your child's lunch?
A: I was never a good lunch-packer when my daughter was in grade school, but she survived and learned to be independent, which is probably just my way of reassuring myself that some of my weaknesses as a parent have turned out to be strengths in her.  Now she's a sophomore at Texas State, so I use Amazon Fresh market and H-E-B curbside to send healthy snacks to her apartment in San Marcos. I also don't hesitate to send her some cookies or treats during finals week. Turns out I'm a better shipper than packer!
Q: What is your nighttime skin regimen?
A: I have to give a shout-out to my dermatologist, Dr. Helen Malone, who takes the time to teach patients about evidence-based skincare and ways to streamline routines. She's also a wizard with lasers. Retinol is a great anti-aging ingredient, but I can use it only a few times a week. I use sunscreen every day so I'm sure to wash my face well each night.
Every other month or so I also treat myself to facials with Kim Chang, who is so knowledgeable and personalizes her treatments and recommendations. Kim has helped me deal with my "maskne", which is a very 2020 issue, by using salicylic acid a few nights a week to help prevent breakouts.
Q: What is your go-to Houston restaurant for a healthy meal?
A: When I'm working at the IQuESt Center, I often pick up lunch at Green Seed Vegan. The Hobbit Cafe has been my Houston go-to for over 25 years, and these past few months I've been riding my bike to Dandelion Café in Bellaire.
I also love to try out different Houston food trucks, especially when they're parked outside my favorite brewery – including Walking Stick in Garden Oaks, which has a huge open air garden and hosts an outdoor yoga class on Sunday.
Q: Do you use an activity tracker or Fitbit and what is your daily step goal?
A: Definitely. I'm all about a fitness app and tracking my physical activity with my Apple Watch or Fitbit. To keep up with local yoga classes, I use The Atrium studio website.
Q: What is your favorite health tip that you live by?
A: I think mental health can be one of the most overlooked areas of health. Try to find joy where you can and be gentle with yourself and others—we are all doing the best we can. Keep a sense of humor and have fun (even if you have to schedule it, thanks, Netflix!) because sometimes it feels like if we don't laugh, we'll cry.
That said, cry when you feel like crying. Call a friend and commiserate about what a stressful time we're living through and how weird it all is. We are not in this alone. The pandemic will pass, and we'll be grateful that we tried to show some grace to others and ourselves.
Additional Resources
Dr. Arindam Sarkar enjoys morning workouts, high-intensity interval training
Light breakfasts, outdoor walks help Dr. Chris Deng stay fit
Read more healthy habits from members of our community.
Learn how Baylor promotes a culture of healthy living and wellness.