Healthy Habits: Light breakfasts, outdoor walks help Dr. Chris Deng stay fit
It can sometimes be difficult to find ways to stay healthy, so we've asked members of our Baylor College of Medicine community to share what they do in their daily lives to maintain a healthy lifestyle.
Dr. Chris Deng, assistant professor of anesthesiology and critical care medicine at Baylor, shares some of his healthy habits with us.
Q: What health decisions start your day?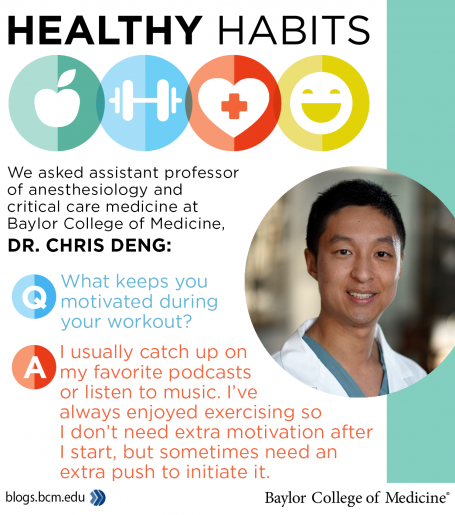 A: I try to eat a small breakfast. I don't focus too much on what I eat but rather make sure it's not too heavy and is balanced.
Q: What is your go-to healthy breakfast?
A: Oatmeal with nuts.
Q: What is your favorite type of exercise?
A: Weightlifting, jogging, and tennis.
Q: What keeps you motivated during your workout?
A: I usually catch up on my favorite podcasts or listen to music. I've always enjoyed exercising so I don't need extra motivation after I start, but sometimes need an extra push to initiate it.
Q: What activities do you do when you can't fit in a full workout?
A: If I can't go to the gym, I usually do pushups or sit-ups at home. Since COVID I haven't been back to the gym so I spend a lot of time walking around my neighborhood or Hermann Park.
Q: What have you been doing to stay healthy during COVID-19? Do you have any advice for coping with the pandemic?
A: I do a lot more walking than I used to do to be outside as well as for relaxation. To cope with the pandemic, I think the best thing is to do more of what you enjoy and set aside a period of time each day for either meditation or relaxation.
Q: What is your favorite healthful snack?
A: Packaged, peeled chestnuts from an Asian grocery store. Light and healthy. I'm otherwise not a snacker at all but this is one type of snack I frequently enjoy.
Q: Do you take vitamins and if so, which ones?
A: Recently, I started taking a multivitamin daily.
Q: How do you make an unhealthy recipe healthy?
A: When I cook, it's almost always Chinese food that I grew up eating. The one substitution I do make is to use much less salt and oil than before. Otherwise things I cook don't require any butter or cream and are pretty light on sauces in general.
Q: What is your nighttime skin regimen?
A: I wash my face every night right before bed.
Q: What hobbies do you have to help you relax?
A: Things that I find most relaxing are exercising, listening to music/podcasts, and watching YouTube videos on tech and photography. Some of my other hobbies like video games actually stress me out more!
Q: What is your go-to Houston restaurant for a healthy meal?
A: Salata.
Q: Do you use an activity tracker or Fitbit and what is your daily step goal?
A: Yes – I've had an Apple watch since it's inception and I love it.
Q: What is your favorite health tip that you live by?
A: Try to do something beneficial for your health every day, and once it becomes habitual then you won't regard it as a chore but just part of your life that you enjoy doing.
Additional Resources
Dr. Stephanie Sisley enjoys reading, runs to stay active
Gardening, games with family help Dr. Teresia O'Connor relax
Read more healthy habits from members of our community.
Learn how Baylor promotes a culture of healthy living and wellness.